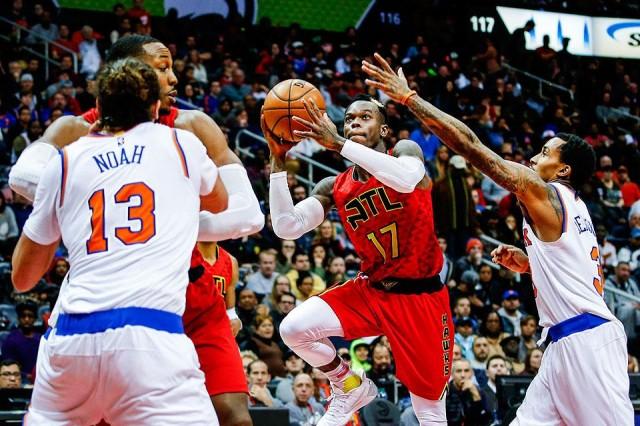 It was definitely a Sunday matinee in Phillips Arena as the Atlanta Hawks and New York Knicks treated fans to a whole heaping of free basketball in their 142-139 instant classic that went to four overtimes.
Unfortunately the Knicks have found another new, excruciating way to lose a basketball game, something they have being doing a lot lately or really since this millennium began.
Here are some key numbers from the game:
3:40: That's how long the game lasted, for some perspective the average game time for an NBA game is 2 hours and 15 minutes
15: That is how many games in NBA history that have gone to four overtimes, this was the first since the Pistons and Bulls on December 18, 2015
23: The number of lead changes in the game
60: How many minutes Paul Millsap played in the game, he had 37 points, 19 rebounds and 7 assists
5: How many players fouled out of the game
7: How many players played at least 48 minutes
1951: The last time the New York Knicks were involved in a four overtime game, against the Rochester Royals
Here are some of the bigger plays that enabled the game to reach an incredible four overtimes:
Carmelo sends it to overtime with this tough drive to the rim to tie the game at 104 with just over two seconds remaining…
Carmelo Anthony comes up clutch!#Knicks vs #Hawks heading to overtime! pic.twitter.com/jvKz8PzY9e

— Def Pen Hoops (@DefPenHoops) January 29, 2017
Here is Courtney Lee with the clutch dagger from deep to send the game to a third overtime…
Courtney Lee sends Knicks vs Hawks to TRIPLE OT! pic.twitter.com/lpsXDFMlqA

— NBA News (@NBABBGAMETIME) January 29, 2017
Here is Dennis Schroeder getting to the rim to tie the game at 130 and send this classic to its fourth and final OT…
Dennis Schroder gets the bucket as the @nyknicks and @ATLHawks head to a 4th overtime! ? pic.twitter.com/QH8IqmaKie

— NBA TV (@NBATV) January 29, 2017
Finally a couple of misses from Courtney Lee from behind the arc mercifully brought this game to an end and sealed the 142-139 win for the Hawks…
Courtney Lee misses back-to-back 3's and the game finally ends after 4OTs! #TrueToAtlanta #Knicks pic.twitter.com/uZTBGz44sl

— The Fuzz (@TheFuzzNBA) January 29, 2017
The Hawks have had three classic games this season including two overtime games and have split the season series 2-2. Can we get a No. 2 vs. No. 7 first-round playoff series between these two teams? Could add some intrigue to what is typically a snoozer of a first round for eastern conference playoff match ups.
In case you were wondering how dominate the Golden State Warriors are offensively keep in mind that they scored 144 points in regulation in their win over the Los Angeles Clippers Saturday night and rested their starters in the 4th quarter…