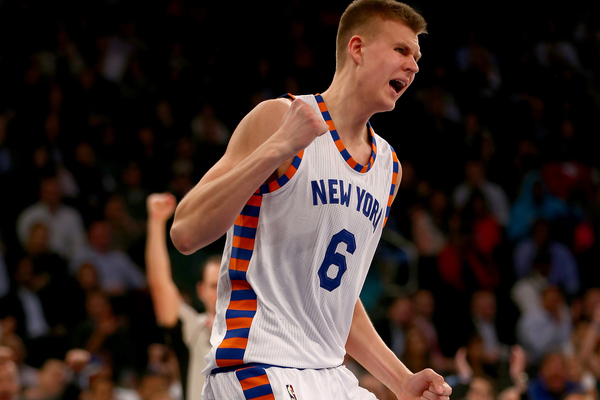 Good news: New York Knicks head coach Jeff Horaneck and myself are on the same page.
Following the beating New York suffered at the hands of the Houston Rockets on Wednesday, Hornacek admitted that the team needs to do a better job of getting Kristaps Porzingis the ball in certain situations, per the New York Post's Marc Berman:
Kristaps Porzingis didn't respond well to Tuesday's fourth-quarter benching for defensive reasons. He didn't have a field goal in Wednesday's 118-99 blowout loss to Houston, getting into foul trouble and scoring three points on 0-for-4 shooting.

After the game, coach Jeff Hornacek came to his defense, saying the Knicks aren't finding him enough.

"We got to do a better job, getting him the ball in a mismatch,'' Hornacek said. "If he's against a smaller guy, we're not necessarily looking for him. We have to find that mismatch.''
Hornacek and I lose each other at "in a mismatch." The Knicks need to get Porzingis the ball more, period. The kid is 7'3″ but plays offense like an All-Star small forward. Every matchup is a mismatch in their favor.
To simplify this even further, Porzingis is already the Knicks' best player. He might be their only two-way player as well. There is no reason for his usage rate, according to Basketball-Reference, to be more than 4.5 points lower than it was last year, his rookie season. There is no excuse for not running him off more screens and inside more pick-and-pops.
And there most definitely is no worthy explanation for why Derrick Rose and Carmelo Anthony, the Knicks' lead ball-handlers, have assisted on only one of Porzingis' made buckets apiece.
Regardless of what the Knicks run—full-blown triangle, half-triangle, partial-triangle, no triangle—Porzingis needs to be a featured option. And while it's difficult to expect him to have the usage of a Rose or Anthony, incumbent status shouldn't matter. Rose isn't the Rose of old, for one, but mostly, Porzingis is the Knicks' future. And he's ready to do more now.
It's time the Knicks recognized that—especially with their playoff ambitions looking like an utter sham just four games into the season.