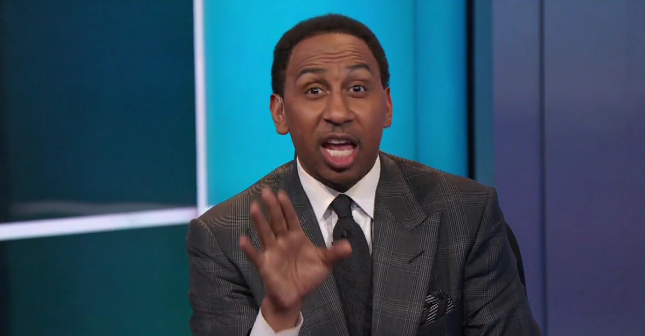 Carmelo Anthony had a very impressive and somewhat historically relevant performance in Team USA's 98-88 victory over Australia on Wednesday. Scoring 31 points and hitting nine three-pointers he is on route to becoming the leader scorer in U.S. Olympic Men's Basketball history.
Congratulations, @carmeloanthony #USA #Rio2016 pic.twitter.com/Y75pHzDhQs

— Bleacher Report (@BleacherReport) August 10, 2016
This is Melo's fourth Olympic games and he has a good shot to be the first player to ever win three Olympic gold medals in basketball.
Stephen A. Smith being his usual ALL CAPS MODE self decided to go off on a passionate rant in a way that only he can to share his disappointment that Melo is participating in the Olympics again with his recent knee issues. He thinks this extra wear and tear and can lead to more attrition next season for Melo and hamper improvement Knicks team.
ESPN: "Stephen A, go on first take and just scream some BS today" pic.twitter.com/wXQn5W13sq

— NBA All Access (@nballaccess) August 11, 2016
It's pretty alarmingly obvious in times like these, during a slow news and NBA cycle, that ESPN tells Smith to just go out and yell about something random with gusto in order to generate buzz and ratings.
Smith also managed to throw in that Kevin Durant was told to go the Warriors by Jay-Z, with no explanation or advancement of the statement of course.
Yo @stephenasmith, you've got to elaborate on this story…@S_C_ @KDTrey5 https://t.co/J9svGw5PRi

— First Take (@FirstTake) August 11, 2016
Count Jay-Z as approximately the 1,235th person for being responsible to sway Durant's decision this summer.
Although Stephen A. Smith can be a little much at times, it will be interesting to see how, if at all, Melo is affected by deciding to play in the Olympics once again this summer.