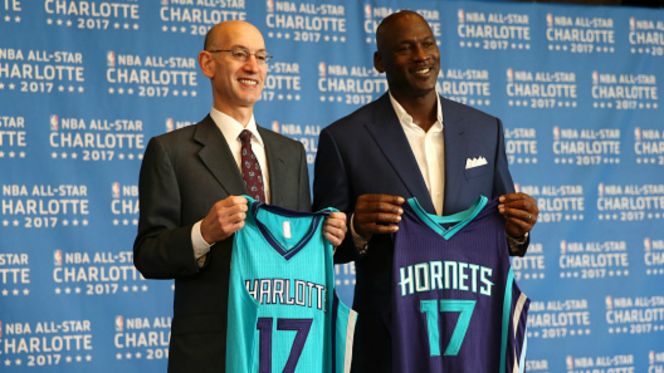 There have been rumblings for months that the NBA would pull the 2017 All-Star Game and festivities out of Charlotte if North Carolina legislators don't change their recently enacted laws that discriminate against the LGBT community.
According to The Vertical Reporter and Editor Adrian Wojnarowski, the NBA made good on their word and has decided to move 2017 NBA All-Star Weekend out of Charlotte.
The NBA has released a statement stating they will relocate the 2017 All-Star Game from Charlotte. (via @NBA) pic.twitter.com/G5fGOgtyzY

— NBA on ESPN (@ESPNNBA) July 21, 2016
The law in question is one passed by the North Carolina legislature in March that states Transgender people must use public restrooms that coordinate with the gender they were assigned at birth and not the gender they have chosen to become.
This law has been a hot topic politically as many parents have spoken out about the resulting confusion that could be caused if Transgender people are allowed to use the restroom of the gender they identify with and not the one they were born with.
It is very rare for a professional sports league to take stand on a political issue like this and potentially (although highly unlikely in my opinion) alienate a portion of their customer base.
Similar actions and sentiments were shared by the NBA and the Phoenix Suns after SB 1070 immigration legislation passed in Arizona in 2010.
According to the press release from the NBA Thursday, the league hopes to "reschedule" the all-star festivities in Charlotte in 2019.
New Orleans currently seems to be the most likely choice to host the 2017 NBA All-Star Game now but a few other cities are reportedly in consideration.
Beyond New Orleans, NBA considering New York/Brooklyn and Chicago for 2017 All-Star game https://t.co/UHulSgcbjc

— Kurt Helin (@basketballtalk) July 21, 2016
Expect a new host city to be decided upon in the next couple of weeks.