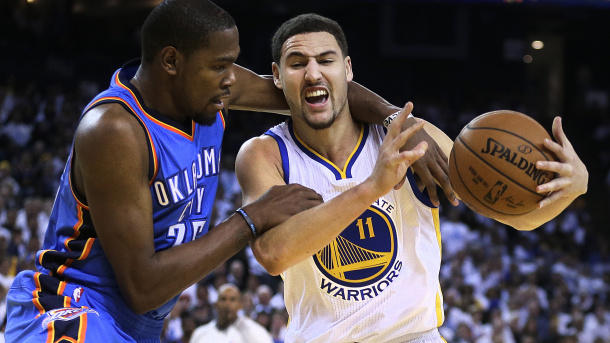 Klay Thompson has still yet to show any concern over his role with the Golden State Warriors in the Kevin Durant era.
Some might believe there's an inevitability behind this stance. The Warriors signed Durant. They actually added a top-three player to a 73-win nucleus. There is no reason for Thompson to complain.
But Thompson's role may change more than anyone on the team as a result of the signing. Most of his shots are already coming off assists—the byproduct of working without the ball. More than 80 percent of his made baskets, in fact, were assisted on last season, according to NBA.com. He may never get to dribble again (I'm only half-kidding) with Durant and Stephen Curry and Draymond Green running the show.
That's a lot to ask of a 20-something star in the prime of his career. He could want to be a featured option, to have more flexibility and freedom and responsibility on the offensive end. He could easily lament the numbers he won't compile now that he's the de facto No. 4 option.
Except he hasn't, and it doesn't seem like he ever will, per USA Today's Sam Amick:
"I think (going after Durant was) a no-brainer man, just because it's a once-in-a-generation kind of talent," Thompson told USA TODAY Sports recently. "It's history. There have never been two MVPs … under 30 (years old) on the same team, so it was a no-brainer just because he's such a great talent and he'd be such a pleasure to play with. Where we were at (last season), it's hard to imagine going to that level (again). But he's the type of guy who could take us there."
Thompson's mindset is really what makes the Warriors an anomaly—more so than their play style and skill sets. That stuff matters, but so, too, does the fact that Golden State has a collection of stars, all in their primes, ostensibly ready to put their egos aside for the right to dominate.
And if Durant, who will have to make adjustments of his own, buys into that mentality, dominate the Warriors shall.