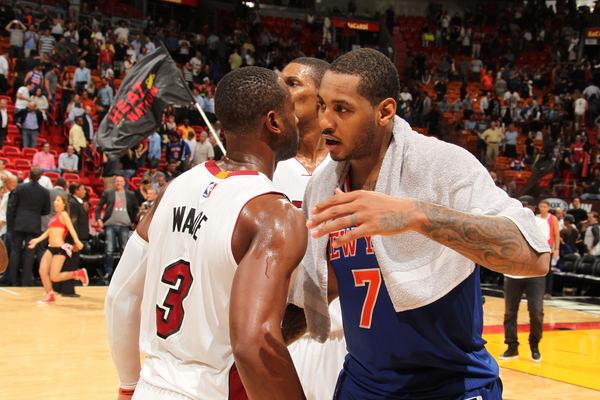 The New York Knicks were almost the Chicago Bulls: epically imbalanced.
Chicago has achieved such status by throwing Jimmy Butler, Rajon Rondo and Dwyane Wade, three high-profile ball dominators, on the same roster. But New York, apparently, almost did the same—or so says Carmelo Anthony, per the New York Daily News' Frank Isola:
Carmelo reveals NYK had "a chance" to sign Dwyane Wade but timing wasn't right. "If it was 2 days earlier we probably would have had D-Wade"

— Frank Isola (@FisolaNYDN) July 20, 2016
Dwyane Wade chose to sign with the Bulls on July 6. The Knicks scooped up Courtney Lee on July 3. Thus, according to Carmelo, they were just three days away from putting two members of the banana boat family on the same team.
In an alternate universe where this actually happened, there are two ways to look at it.
On the one hand, you could lament the idea of Anthony, Derrick Rose and Wade fighting over one ball, all while Kristaps Porzingis wastes away off to the side somewhere, as a glorified spot-up shooter. Now, Anthony is better working off the ball than either Butler, Rondo or Wade, so there's that to consider, but the Rose-Wade combo would be a space-killing disaster.
On the other hand, having Wade in tow would have given the Knicks an inside track on making the banana boat superteam come true. They would already have Carmelo Anthony and Dwyane Wade, Rose's deal comes off the books next summer, and both LeBron James and Chris Paul should be free agents in 2017.
Epic pipe dreams aside, though, the Knicks should be low-key thankful Wade is in Chicago. Their immediate ceiling is propped out by half-mangled twigs as it is, with all the what-if talent on the roster. Wade only would have drove up their uncertainty factor.