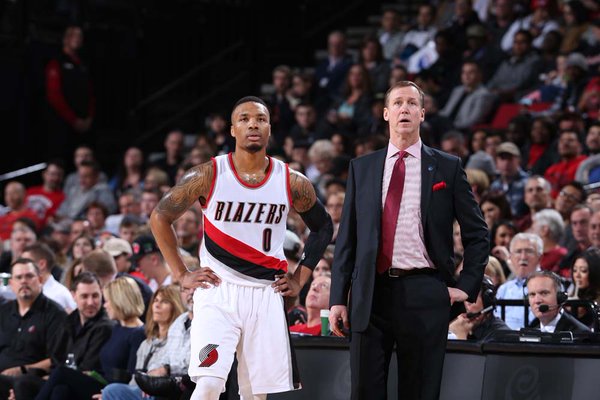 What do you get when you guide a Portland Trail Blazers team that was supposed to finish in the bottom three of the Western Conference to the second round of the NBA playoffs?
A fat three-year extension.
Terry Stotts is, expectedly, sticking with Portland, per The Vertical's Adrian Wojnarowski:
Stotts has agreed on three-year extension with Blazers that takes him through 2020, sources tell @TheVertical. Extension starts in 2017-'18.

— Adrian Wojnarowski (@WojVerticalNBA) May 17, 2016
Kevin Arnovitz of ESPN.com added this:
The 3-year extension for Terry Stotts in Portland will average approximately $5 million over those three years.

— Kevin Arnovitz (@kevinarnovitz) May 17, 2016
Around $5 million per year coincides with the rest of the coaching market. That $5 to $7 million annual salary seems to be the popular spot for sideline wanderers.
And Terry Stotts deserves to be paid as much as anyone after the job he did in 2015-16. He tweaked the Blazers' rotation and defensive schemes to best accommodate Damian Lillard and C.J. McCollum, and the end result was a second-round playoff appearance that no one saw coming.
The Blazers, of course, need to weigh the prospect of this season's success against its future sustainability. Injuries won't always open the path for them to reach the second round, and the New Orleans Pelicans, Utah Jazz and Houston Rockets were all unpredictably terrible relative to expectations. The Blazers must find a way to keep up, so that they're not the 2015-16 version of the 2013-14 Phoenix Suns or 2014-15 Milwaukee Bucks.
Something about this team feels different, though. They are hungry and united, and with the exception of Lillard, they haven't yet tied themselves financially to any one direction. They have the opportunity to improve over the offseason and, largely because of Stotts, have become one of the most attractive upstart organizations in the league.