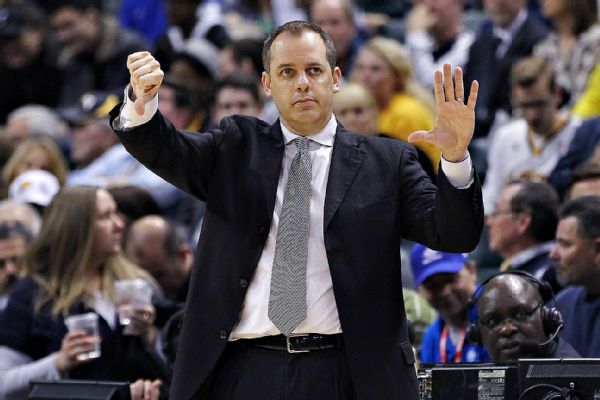 Not so fast, Kurt Rambis. Team president Phil Jackson isn't ready to name you the New York Knicks' permanent head coach just yet.
As first reported by the New York Daily News' Frank Isola, Jackson met with former Indiana Pacers head coach to talk about the team's coaching vacancy:
Phil Jackson met face-to-face with with former Indiana Pacers head coach Frank Vogel last week, the Daily News has learned.

The clandestine meeting, which is believed to have taken place in Los Angeles, also included Knicks general manager Steve Mills, according to a team source.

Kurt Rambis, David Blatt and Frank Vogel are the top three candidates for one of the more coveted NBA jobs. Jackson's meeting with Vogel also raises further questions as to whether Garden chairman James Dolan is opposed to signing off on Jackson's preferred choice, Rambis.
This assumption that Knicks owner James Dolan is perhaps the only reason Jackson hasn't named Rambis the team's next head coach is unsettling. It may be fair, it may be not fair. Jackson seemed enamored with the idea of hiring Rambis as last season drew to a close, so it's a pretty big surprise that two other favorites, in David Blatt and Vogel, neither of whom has strong ties to the Zen Master, have emerged in this search.
But if Frank Vogel is willing to incorporate the triangle into his offensive scheme, he may have a leg up on Rambis, who can of course stay on as a lead assistant tasked with implementing Jackson's vaunted scoring model.
All of Vogel's Pacers squads ranked in at least the top 10 of defensive efficiency during his time in Indiana. Last season, they finished third, behind only the San Antonio Spurs and Atlanta Hawks, according to NBA.com. That he could help the Knicks carve out a defensive identity as they try to master a slow-paced offense that isn't conducive, in today's NBA at least, to building or erasing big leads is incredibly valuable.
This, of course, is assuming that he, like Blatt, is actually a serious candidate for the position. After all, until Jackson actually names someone else to the seat, Rambis must be considered the absolute favorite.