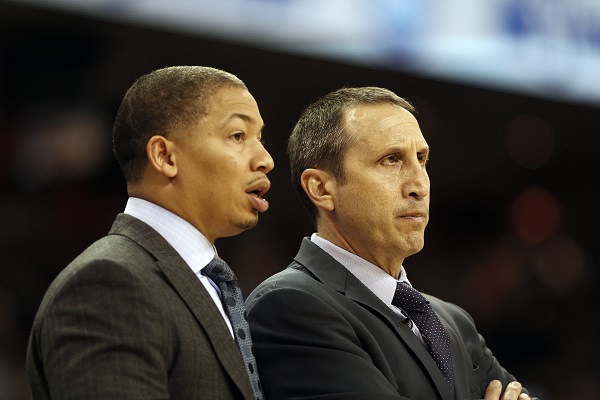 David Blatt, former head coach of the Cleveland Cavaliers, is having his name thrown into the ring for multiple NBA head coaching vacancies. And his successor, Tyronne Lue, thinks it's well deserved.
Per the Associated Press (via NBC Sports):
"He definitely deserves another chance," Lue said. "I thought Coach Blatt did a great and phenomenal job here. He taught me a lot. Just being friends with him and getting a chance to understand him was great for me. I know a lot of guys around here, we talked about it the other day, they miss him and his presence.

"Hopefully, he gets another job in this league because he deserves it."
This is a classy response from Tyronn Lue, though that's no surprise. He apparently handled Blatt's dismissal in the same vein, doing everything in his power to ensure he didn't seem like he was gunning for his boss's job.
Tyronn Lue is also right. Blatt absolutely deserves another chance. His time in Cleveland wasn't perfect, and he made some questionable decisions from his rotation to his off-court sentiments. But he was thrust into an unforeseeable situation.
The Cavaliers signed him to guide a rebuilding squad led by Kyrie Irving and Andrew Wiggins. Then, quite suddenly, LeBron James returned and Cleveland traded Andrew Wiggins in a deal for Kevin Love. Just like that, the Cavaliers were title contenders—a new kind of project Blatt didn't expect to inherit.
That's not an excuse on behalf of his flaws. But it is an important footnote. He was never given the full slack of a real NBA head coach, so it's impossible to tell yet whether he's fit for NBA head coaching duty. At the very least, though, he has earned another chance, be it with the New York Knicks, Los Angeles Lakers or Sacramento Kings, if only because he's still the same top coaching prospect Cleveland thought it was getting to guide a team full of youngsters.