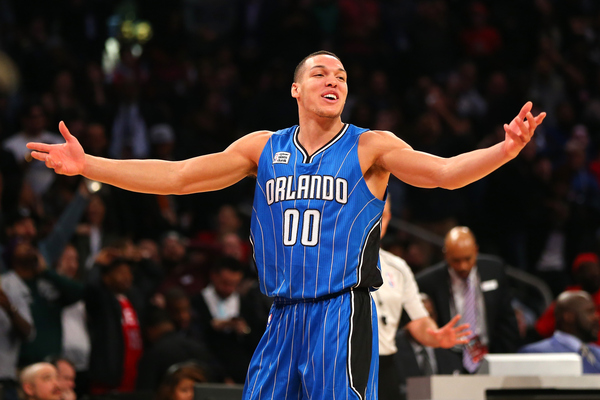 Plenty of people thought that Aaron Gordon, not Zach LaVine, should've been named the NBA's Slam Dunk Champion at this year's All-Star Weekend in Toronto.
Paul George of the Indiana Pacers is, apparently, among them.
Ahead of the Pacers' Thursday night loss to the Orlando Magic, George, who has participated in the dunk contest himself, retroactively expressed his support for the 20-year-old Gordon, per the Orland Sentinel's Josh Robbins:
Paul George knows a thing or two about the All-Star slam dunk contest, having participated in the event in 2012 and 2014.

So his opinion counts.

And George thinks Aaron Gordon should have been declared the winner of this year's dunk contest in Toronto over winner Zach LaVine even though George has enormous respect for LaVine.

"I thought he got robbed," George said before his Indiana Pacers faced Gordon's Orlando Magic at Bankers Life Fieldhouse on Thursday night.

"In today's day and age, everything's been seen in the dunk contest, and when you see stuff that nobody's done, you've got to reward that. Not discrediting everything Zach did — Zach did a phenomenal job — but you've seen those dunks before. In what today's dunk contest is, it's all based on creativity. You've got to give it to the guy that's been the most creative."
Most of me agrees with George here. Gordon's dunks, especially as the rounds went on, appeared to be more creative, more unique and just plain better overall.
At the same time, it was close. LaVine was incredible himself. This was a situation where, looking back, either player could have been named the victor. Had Gordon won, there would be people, like George is for Gordon, speaking out on LaVine's behalf.
Really, the NBA should've named Gordon and LaVine co-champions. That made the most sense after the ridiculously awesome show both young guns put forth.
But the bigger, better part of all this is Gordon and LaVine both want to continue partaking in the dunk contest. The competition needs that kind of support, from players who are amazingly crazy dunkers and want to headline the event.
Neither LaVine nor Gordon is Kevin Durant or LeBron James, but seldom do high-profile names want to risk damaging their brand or failing to live up to expectations. These two players, however, have made it clear that their expectation is to wage a dunking battle once again next year.
So, really, we all win.