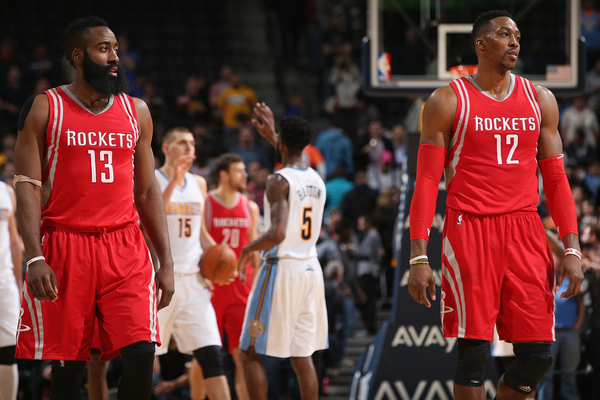 All is not well with the Houston Rockets, who are battling for one of the Western Conference's final three playoff spots and are staring down a make-or-break offseason.
But there's at least one silver lining.
Dwight Howard apparently doesn't despise James Harden's existence.
As the big man told USA Today's Sam Amick:
This has led to thought around the league that Howard doesn't like Harden. But in an interview with USA TODAY's Sam Amick, Howard says that's not true.

"People feel … like we hate each other," Howard said. "I have no hate in my blood for this man, you know? For what? He came from nothing. We both came from nothing. And we're doing something that we love. We grew up playing this game for fun, and we had big dreams of making it to the NBA.

So I would never hate this man because I know what it took for me to get here, and he made it. So I want him to succeed. I want us to succeed. Before coming here, I watched endless hours of YouTube videos on James Harden, before he had the beard. I watched all that stuff, because I'm like, 'Dang, this boy, he's got so much talent.'
This falls well short of Dwight Howard calling James Harden a best friend with whom he splits milkshakes and has sleepovers, but that's just fine. There is, don't forget, a three-plus year gap in age between these two. They don't have to run with the same crowd or be interested in the same things. They just have to coexist on the basketball court.
And there are times when they do just that, such as during the Houston Rockets' loss to the Oklahoma City Thunder on Tuesday night.
With the Rockets trailing by two inside 12 seconds to play, Harden tried to force a potential game-tying lob Howard's way. The pass failed, and the Thunder won. But at least there's a trace of on-court chemistry—or a willingness to create it.
Of course, this marriage may prove to be short-lived. Dwight Howard has a player option for next season and is expected to explore free agency, and all signs point to him signing elsewhere. Still, for the time being, he and Harden are teammates, trying to make a lower-seeded playoff berth turn into an improbable postseason push. That they can, it seems, get along on a fundamental level is only a good thing.