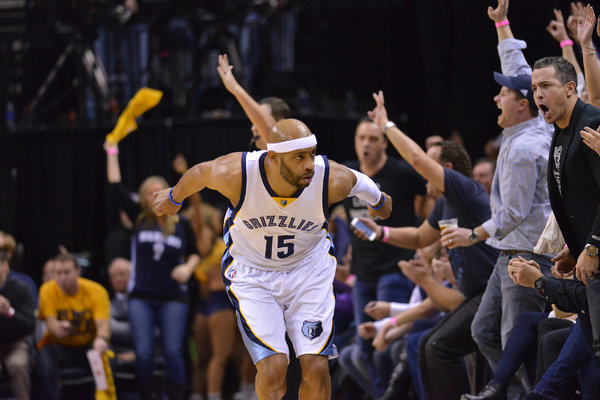 Some people think Vince Carter plans on retiring from the NBA after this season.
Vince Carter, however, is not one of those people.
The 39-year-old has another year left on his deal with the Memphis Grizzlies. It's non-guaranteed, but it's worth nearly $4.3 million, so it's understandable that Carter wouldn't want to walk away from that coin.
But he also doesn't want to walk away, period.
From Ronald Tillery of the Commercial Appeal:
Bryant announced that he is retiring after this season. Carter, who in his 18th NBA season, plans to play next season and beyond.

"For sure," Carter said. "Did I say I was retiring? I'm very thankful for (the recognition on the road). Don't get me wrong. But I plan on coming back. I just go year to year at this point. I don't put a timetable on it. I don't want to say two years and then everybody says 'Well this is it, right?' But 20 years would be cool."
Reaching the 20-year milestone demands Carter play another two years after this one, taking him well past his 40th birthday. It's not an unrealistic goal by any means, considering how healthy he has been over the last few years, even if he is playing limited minutes. If the Grizzlies keep him through the last year of his deal, which is totally possible, he'll only need to secure a legacy contract elsewhere, perhaps in Toronto, to finish off his illustrious career.
Part of remaining in the NBA, though, involves proving he can still be effective as a complementary shooter. Carter's shooting percentages have plummeted this season, but the Grizzlies' spacing is awful. He shot nearly 40 percent from downtown in 2013-14 while playing with the Dallas Mavericks, who pride themselves on spacing the floor and firing threes out of drive-and-kicks. If Carter can regain some of that shooting flair, either in Memphis or elsewhere, he has value as a spot-up assassin who provides the occasional rim-rocking, clock-turning slam.