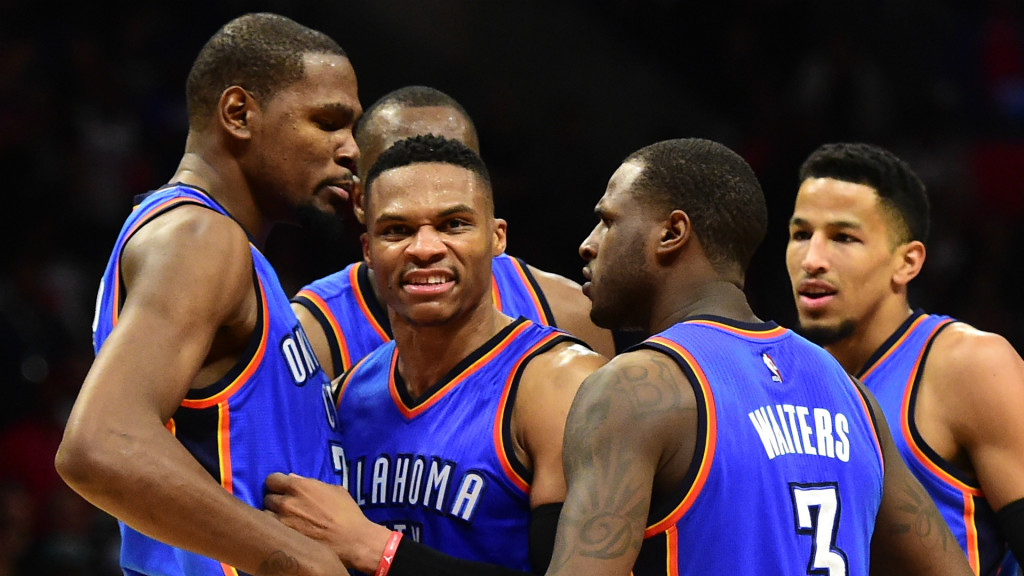 The Oklahoma City Thunder are not the Golden State Warriors or San Antonio Spurs, but they're trying like hell to keep pace with them.
And they're doing a pretty good job.
Oklahoma City has spent most of the season vacillating between being the third- and fourth-best team in the league. If and when the Thunder meet the Warriors or Spurs during the playoffs, they won't be a prohibitive favorite, or even considered an equal, but they'll be more than capable of pulling off an upset. That's the luxury of employing two of the seven best players in the world in Kevin Durant and Russell Westbrook.
But the Thunder are looking to get even better, even more imposing. Andre Roberson's injury has accentuated their need for a wing. Even when he's healthy, the Thunder still lack that perimeter weapon who can both defend and score off the catch.
According to ESPN.com's Zach Lowe, though, they are, loosely, looking for that player:
The Thunder need to figure out who among Payne, Waiters, Singler and Anthony Morrow might fill those minutes and if it's worth flipping Mitch McGary at the deadline for a slight upgrade such as Courtney Lee or P.J. Tucker. They've been sniffing around for available wings but haven't gotten serious yet, per several league sources.
Personally, I vote the Thunder make a play for Allen Crabbe of the Portland Trail Blazers. He is putting in more than 40 percent of his spot-up triples, and his defensive stances will allow him to stay on the floor longer than Anthony Morrow.
Crabbe is playing well for the Blazers, who are making a surprise playoff push. But he's set to enter restricted free agency, and Portland isn't shelling out substantial money to keep him when they have to worry about C.J. McCollum hitting the semi-open market in 2017.
If the Thunder package Mitch McGary with D.J. Augustin, that might be enough to get a deal done.