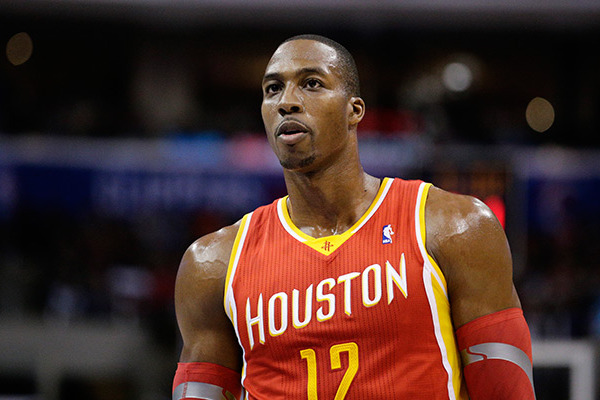 Dwight Howard? On the Boston Celtics?
Surely not.
Or maybe so.
From the New York Daily News' Frank Isola:
Meanwhile, the Celtics have engaged the Houston Rockets in talks about a possible deal for Dwight Howard, the Daily News has learned. Howard can opt out of his contract this summer, and considering his back and knee issues, it doesn't make much sense for Boston GM Danny Ainge to use the assets on a player with declining skills and a battered body.
This is weird. Or it makes perfect sense.
The Houston Rockets cannot keep Clint Capela, Howard, Terrence Jones and Donata Motiejunas together much longer. Jones and Motiejunas, who has been injured of late, are restricted free agents this summer, while Howard has the option of, and is expected to, explore the open market himself.
Though the Celtics' defense is stingy enough, they could certainly use a rim protector. But Howard is now on the wrong side of 30 with a deteriorating body. Absent a jump shot, he doesn't move the needle in today's NBA as much as he did in years past—especially for a team that, again, is already as defensively sound as the Celtics.
Now, if the Rockets are willing to sell low, perhaps warming up to David Lee, a heavily protected first and restricted-free-agent-to-be Jared Sullinger, then this is a different story. Howard is certainly worth a look if the cost is right.
But unless the Rockets are completely over him, or unless he's made it clear he'll leave Houston in free agency, general manager Daryl Morey has little, if any, incentive to flip Howard for what amounts to odds and ends and filler.