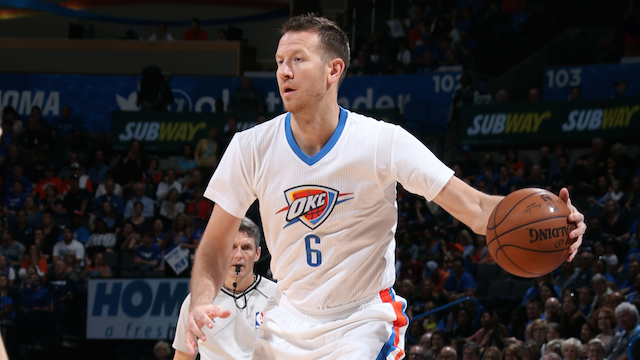 The Denver Nuggets are adding to the NBA's waiver wire just in time to help asset-strapped playoff teams bulk up ahead of the postseason.
According to ESPN.com's Marc Stein, the Nuggets plan on buying out the contracts of J.J. Hickson and Steve Novak, the latter of whom they acquired from the Oklahoma City Thunder, along with D.J. Augustin:
ESPN sources say Denver, in addition to Steve Novak, will grant contract buyout to J.J. Hickson before March 1 playoff-eligibility deadline

— Marc Stein (@ESPNSteinLine) February 18, 2016
ESPN sources say Nuggets have agreed to work with newly acquired Steve Novak on a contract buyout to keep him playoff eligible for next team

— Marc Stein (@ESPNSteinLine) February 18, 2016
J.J. Hickson has been buried behind the Nuggets' smattering of frontcourt bodies. As soon as rookie Nikola Jokic and Joffrey Lauvergne proved they were ready for steady playing time, he was done for.
Novak's situation is interesting. Negotiating a buyout ahead of March 1 will allow him to join a playoff team, but he hasn't played steady minutes since his 2011-12 and 2012-13 stints with the New York Knicks. Unless he knows he'll land another contract elsewhere, it would make sense for him to earn the entirety of his $3.8 million salary this season.
There's almost no way of knowing if he'll land on his feet. At 6'10", with one of the deadliest three-point strokes ever, he should be a commodity in today's NBA. But shooting is all he can do. He doesn't put the ball on the floor or rebound particularly well, and hiding him on defense is borderline impossible.
It'll be interesting to see where, if anywhere, both of these players land ahead of the playoffs. The NBA's buyout market in general should be an intriguing affair.