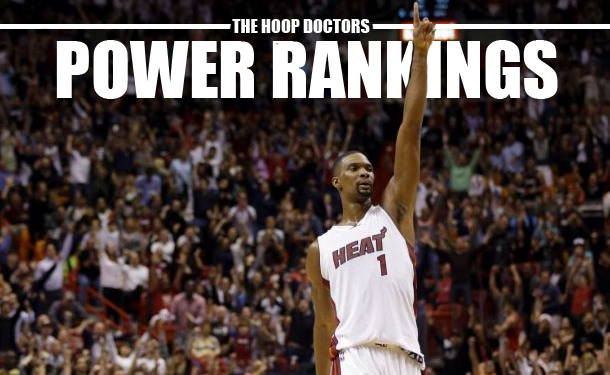 Oh, hello there, 2016.
We almost didn't see you come in, not with the 2015-16 NBA season unfolding exactly how it wasn't supposed to.
Sure, we knew the Spurs would be really good, even if we didn't know they'd be historically awesome. We knew the Warriors would be great. We knew the Cavaliers would be, too. And we had a feeling the Clippers, Thunder, Bulls and Hawks would all have their moments and stretches.
Beyond that, we knew nothing. We didn't know how badly the Rockets would struggle. How hard the Jazz would be hit by injuries. How sad-happy the Mavericks and Raptors would play. How terribly terrible, even if their record doesn't show it, the Grizzlies would look.
So let's get to talking about all we didn't know but think we now know even though we really don't know a gotdamn thing about what we think we know.
***For a week by week list of all our NBA Power Rankings this season, please visit this page.
NBA Power Rankings
| | |
| --- | --- |
| 1 | |

Golden State Warriors

Some people are ready to place the Spurs above the Warriors, but I'm not there yet, nor will I be unless San Antonio wins its Jan. 25 matchup with Golden State…

Last Week (1)

| | |
| --- | --- |
| 2 | |

San Antonio Spurs

…That said: HOLY CRAP SPURS.

Boban Marjanovic #NBAVote.

Jonathan Simmons #NBAVote

Last Week (2)

| | |
| --- | --- |
| 3 | |

Cleveland Cavaliers

The Cavaliers are outscoring opponents by more than 17 points per 100 possessions when Kyrie Irving, LeBron James and Kevin Love share the floor. I'd say it's good to have this tricycle band back together again.

Last Week (4)

| | |
| --- | --- |
| 4 | |

Los Angeles Clippers

Oh my god, the Clippers are better without Blake Griffin—except they're not. Their offense needs only Chris Paul to thrive, and their defense looks, um, less crappy.

Last Week (10)

| | |
| --- | --- |
| 5 | |

Chicago Bulls

As for the Bulls, they actually are better when Derrick Rose is not on the floor—by a statistical mile.

Last Week (14)

| | |
| --- | --- |
| 6 | |

Atlanta Hawks

Sometimes you watch the Hawks and are like, "Yeah, they're back!" Other times you're like, "Shit, this team is back to being mediocre."

Last Week (5)

| | |
| --- | --- |
| 7 | |

Miami Heat

Dwyane Wade is scary ageless this season.

Last Week (10)

| | |
| --- | --- |
| 8 | |

Oklahoma City Thunder

Losing Kevin Durant, even for a few games, could cost the Thunder their hold on the West's No. 2 seed. The Clippers are surging, and Oklahoma City, as we saw in Monday's loss to Sacramento, really struggles to function without Durant.

Last Week (3)

| | |
| --- | --- |
| 9 | |

Indiana Pacers

After a hot start, the Pacers are firmly entrenched inside the Eastern Conference's widening "Could Make It to the Eastern Conference Finals, Could Miss the Playoffs Entirely" class.

Last Week (7)

| | |
| --- | --- |
| 10 | |

Boston Celtics

Jae Crowder is, like, Draymond Green…minus above-average court vision.

Last Week (6)

| | |
| --- | --- |
| 11 | |

Toronto Raptors

A top-five offense and top-10 defense and still the Raptors struggle to remain consistent.

Last Week (8)

| | |
| --- | --- |
| 12 | |

Dallas Mavericks

Speaking of maddeningly inconsistent teams, the Mavericks may just kill Rick Carlisle by the end of this season.

Last Week (12)

| | |
| --- | --- |
| 13 | |

Detroit Pistons

Imagine how good the Pistons could be if they didn't hover around the bottom seven in offensive efficiency.

Last Week (16)

| | |
| --- | --- |
| 14 | |

Charlotte Hornets

Statistically speaking, the Hornets are a really good team. Their schedule just hasn't been the greatest, as they continue to search for a trademark victory.

Last Week (13)

| | |
| --- | --- |
| 15 | |

Houston Rockets

James Harden's defense has gone from bad in 2013-14, to pretty OK in 2014-15, to inexplicably lazy in 2015-16.

Last Week (15)

| | |
| --- | --- |
| 16 | |

Orlando Magic

Offensive misgivings have the Magic floating outside the East's playoff picture once again. They really need Elfrid Payton to start progressing as a jump shooter.

Last Week (11)

| | |
| --- | --- |
| 17 | |

Washington Wizards

The Wizards, quite simply, are still confusing.

Last Week (17)

| | |
| --- | --- |
| 18 | |

New York Knicks

Um, I don't even know. The Knicks have no identity, and yet there are nights when they look like legit a postseason team.

Last Week (20)

| | |
| --- | --- |
| 19 | |

Utah Jazz

Get. Healthy. Soon. Jazz. OK?

Last Week (19)

| | |
| --- | --- |
| 20 | |

Memphis Grizzlies

This is me, giving the Grizzlies' championship window a proper burial.

Last Week (18)

| | |
| --- | --- |
| 21 | |

Portland Trail Blazers

No, the Blazers aren't very good. But they're damn fun on offense, and this rebuild needn't last too long.

Last Week (22)

| | |
| --- | --- |
| 22 | |

Sacramento Kings

What's it going to take for the Kings to defend, like, ever?

Last Week (23)

| | |
| --- | --- |
| 23 | |

Denver Nuggets

Three years from now, I bet we'll look back fondly upon this Denver squad.

Last Week (21)

| | |
| --- | --- |
| 24 | |

Los Angeles Lakers

Three-game winning streak. SHUT IT DOWN.

Last Week (29)

| | |
| --- | --- |
| 25 | |

New Orleans Pelicans

Though the Pelicans moved up, consider their placement behind the Lakers punishment for trading Ish Smith.

Last Week (27)

| | |
| --- | --- |
| 26 | |

Milwaukee Bucks

For all the talk about the Sixers' flawed process, the Bucks' longstanding devotion to mediocrity, with a few anomalies from either end of the spectrum sprinkled in between, is pretty tragic.

Last Week (26)

| | |
| --- | --- |
| 27 | |

Minnesota Timberwolves

Still really love this team. Just don't love how they've failed to forge a specialty on either side of the ball.

Last Week (24)

| | |
| --- | --- |
| 28 | |

Brooklyn Nets

On a totally unrelated note: I miss Rondae Hollis-Jefferson.

Last Week (28)

| | |
| --- | --- |
| 29 | |

Philadelphia 76ers

The Sixers have won three of their last six games and I'm trying not to overreact but ISH SMITH FOR MVP THIS SEASON AND NEXT SEASON AND THE SEASON AFTER NEXT SEASON.

Last Week (30)

| | |
| --- | --- |
| 30 | |

Philadelphia 76ers

It's amazing how much a surprisingly pleasant 48-win campaign in 2013-14 has helped absolutely ruin the Suns.

Last Week (25)