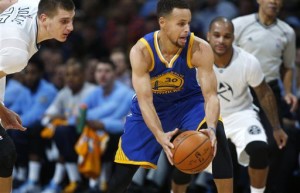 Who can stop the Golden State Warriors?
The defending champions continued their impressive run this season after emerging victorious yet again last night at Pepsi Center, beating the Denver Nuggets, 118-105.
Klay Thompson and Stephen led the way for the Warriors, as they combined for 40 points (15-of-32) that included seven buckets from beyond the arc. But this win was a pretty special one as it allowed them to match the best NBA start in league history of 15-0.
Check out this incredible feat by the the Warriors:
Now, Curry and company set their sights on setting new record by becoming the first ever team to start 16-0 when Kobe Bryant and the 2-11 Los Angeles Lakers come to Oracle Arena this coming Tuesday night. I'm sure Kobe will be hyped to play stopper, but the way the Lakers look these days, it is not too likely.