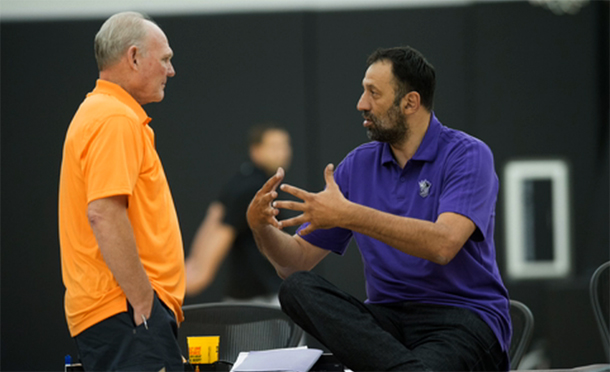 Brace yourselves: More Sacramento Kings chatter is en route.
Rumors have flooded the Internet over the past few days, once again painting a portrait of chaos inside the Kings' organization. General manager Vlade Divac, however, is here to tell you that everything is cool, per ESPN.com's Marc Stein and Brian Windhorst:
Sacramento Kings general manager Vlade Divac has strongly insisted that coach George Karl's job is secure amid mounting frustrations and locker room tension.

"George's job is not in jeopardy. Absolutely not," Divac told reporters Wednesday. "Nothing has changed. I believe in him. I believe he is good for us. Yes, we struggle, but you can see the way we played tonight, we have the talent, and we will turn this around."
Good to hear. Nice to see the Kings coming to the defense of their coach for once, even if it's for the coach they probably shouldn't have installed in the first place but at least could have been better about hiring to replace former head honcho Mike Malone.
You'll have to forgive us, though, Vlade if we're inclined to actually wait out your sentiments. See, your Kings have a knack for changing direction on a whim. If Karl lasts the season, as a result of your supposed faith in him, you'll earn some much-needed goodwill.
Plus, what about that report from The Big Lead , the one that bluntly stated you polled your team on the fate of Karl?
Oh, you can explain that too?
From ESPN.com:
"I never asked the players if I should fire Coach or said I was thinking of doing that," Divac said. "I walked into the locker room after the game and said, 'OK, you guys don't want to play with Coach? What's the problem?'

"I wanted to catch them by surprise a little bit and get them to talk openly about what was going on. Then the coaches came in, and we talked some more. I think it was very positive for everyone."
Hmmm…That's basically the same thing. Just saying.
Even if it was a rhetorical question, one that Divac had no intention of turning into a real issue, he should have clarified his stance, explaining to the players that he's just fishing for answers as to why the team is sucking. If Divac indeed framed his walk-in as he described, it's pretty ambiguous and easy to misinterpret, hence the intial rumor.
Sure, he's on the record committing to Karl now. But choosing his words more carefully—or, based on the existence of the report at all, showing more faith in Karl sooner—would have saved the Kings a lot of trouble.
And, at 2-7, with a seemingly unhappy DeMarcus Cousins, the Kings could use all the breaks from the rumor-mill spotlight they can get.