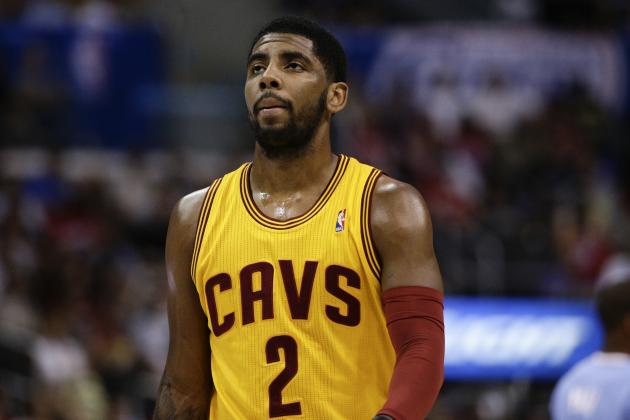 Kyrie Irving is working back from a knee injury, and it appears the Cleveland Cavaliers point guard could return sooner than initially expected.
According to ESPN's Dave McMenamin, Irving wouldn't offer a specific date but—contrary to what the team has suggested—said he has one in mind.
"There's light at the end of the tunnel. In terms of a date, I do have one in my head, but obviously, I'm not going to share it for a little bit. I think all the rumors that everyone said in terms of January or whatever, I'll let them stay out there. But for me, I'm just trying to take it one day at a time, and I'm just continuing the process."
Per the report, Irving's focus has shifted to strength training and conditioning. I'm not a doctor nor am I pretending to be one, but that seems to be encouraging news. After all, January is nearly 60 days away.
Irving added that he's cleared to sprint, participate in basketball activities and isn't limited in workouts, while the current restriction is no contact. Consequently, the next important headlines are likely "Kyrie Irving cleared for contact" and "Kyrie Irving says he's 100 percent."
Perhaps they come at the same time, but there's a bit of hopeful precedent to check out once that moment arrives. Last season, Indiana Pacers small forward Paul George made his debut 13 days after the team cleared him to play.
But George was limited at the beginning, and the Cavaliers might want to wait for Irving to be both conditioned and physically prepared before inserting him into the lineup.
Besides, LeBron James and Kevin Love can shoulder the load until Irving's knee is ready for game action, and offseason addition Mo Williams is filling in admirably. He's tallied 15.4 points and 4.4 assists per game so far. It's a small sample size, but Cleveland can't ask for much more than the performance reflected in his 18.2 player efficiency rating.
The Cavaliers don't need to rush Irving back onto the floor, and he's smart not to put a deadline on that return—even if it's sooner than we once thought.