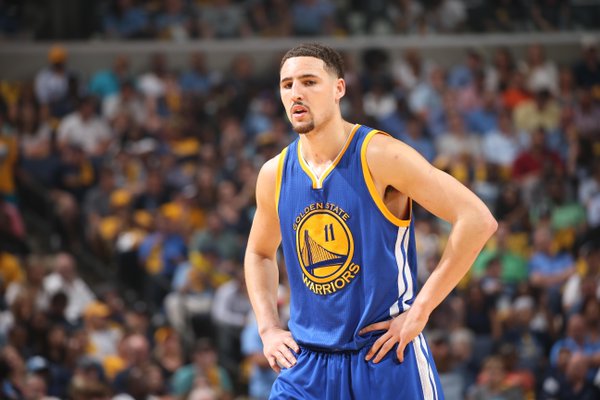 Klay Thompson does not have any plans to leave the Golden State Warriors.
Which is good.
Because he can't.
Also: Why would he want to?
Klay Thompson signed a five-year extension with the Warriors ahead of last season. If he had intended to leave anytime soon, he would have explored restricted free agency this past summer, perhaps seeking to orchestrate a sign-and-trade or something. But the Warriors are a championship team, he enjoys playing next to a superhuman Stephen Curry, Golden State is once again rolling and this is still the team that passed on a Kevin Love trade because the cost of losing Thompson was deemed too high.
So, yeah, there's no real reason for him to want out, now or even down the line.
Still, star players have egos. And so long as Klay Thompson is on the Warriors, he will take a backseat to Curry and, for the most part, Draymond Green. The desire to journey outside Golden State's championship bubble, to a team that counts him as its best player, as its primary cornerstone, could be there. You never know.
Except, thanks to Sports Illustrated's Chris Mannix, now we do.
And, again, Thompson doesn't have any trace of an inkling to leave the Warriors:
Still, Klay Thompson is 25, an All-Star and an NBA champion, with another ring very much within reach. Could he imagine himself wanting to go elsewhere and see what he could accomplish on his own?

"Winning is so much fun, man," Thompson said. "It's one thing to put up numbers and be the top guy on a team and it's another thing to sacrifice and be on the best team in the NBA. I'll take the latter every time. We have a lot of guys in this locker room who could be franchise players for other teams. That doesn't matter. At the end of the day people are going to remember championships. That's what it's all about."
Those are some seasoned words for a 25-year-old All-Star.
Winning is supposed to take priority over everything, but when you're young and firmly in the thick of your prime, making the necessary sacrifices to win as part of an ensemble cast isn't always easy. We've seen Kevin Love struggle with the notion of concession in Cleveland, just as Chris Bosh at first grappled with it in Miami.
It's easier for Thompson to accept his role on the Warriors, as their third-best player, because it's basically all he's ever known. And it's easier to take a step back on some nights when you've been around from the beginning.
Plus, you know, Klay Thompson knows firsthand what everything he and the Warriors are doing leads to.
Greatness.