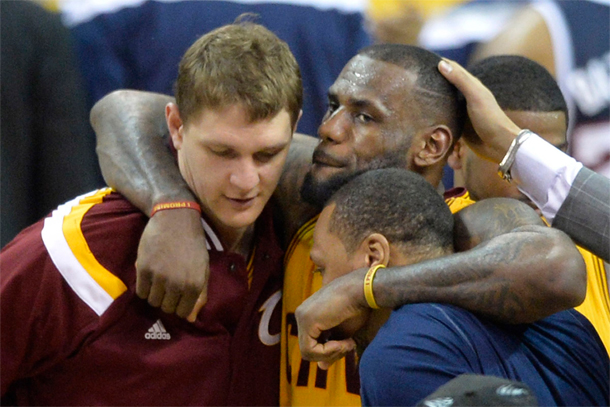 The Cleveland Cavaliers started the season without star point guard Kyrie Irving and top reserve Iman Shumpert, but the roster can't escape injuries. Fortunately for the team, the upcoming schedule favors the Cavs.
On Friday, the franchise announced center Timofey Mozgov (shoulder) and point guard Mo Williams (ankle) will be sidelined for two weeks and two games, respectively. Anderson Varejao, Tristan Thompson and Matthew Dellavedova are set for larger roles.
Although LeBron James and Co. must carry on without four of the top seven players, Cleveland stands atop the Eastern Conference at 9-3. Most importantly, the Cavaliers have posted a 6-0 record at home, where they'll be playing two games without Williams and four of an expected six sans Mozgov.
The Atlanta Hawks and Orlando Magic certainly will pose a challenge. It wouldn't be surprising if either opponent knocked off Cleveland, either. Nevertheless, the Hawks and Magic aren't exactly a gauntlet needing to be survived. If the Cavs can limit Paul Millsap and Victor Oladipo, they should emerge with a win.
Following a road matchup with an inconsistent Toronto Raptors club, Cleveland heads south to face the Charlotte Hornets. Both franchises perform better at home, but the Raptors are at best a top-12 team while Charlotte is a borderline playoff squad. Plus, Williams should be back on the court by then.
The Cavaliers finish their potential Mozgov-less stretch with home matchups against the terrible Brooklyn Nets and lackluster-on-the-road Washington Wizards. Though rim protection could be a minor issue opposite Brooklyn, the Nets don't have enough firepower to contest Cleveland for 48 minutes anyway.
Now, excluding Brooklyn, the Cavs aren't facing a slew of pushovers. A cold-shooting night from Kevin Love or an inefficient outing from LeBron could doom Cleveland. However, it's not like the team is heading into a two-week slate filled with premier foes.
In fact, the injuries to Williams and Mozgov probably came at an ideal time—though an ailment in and of itself is never ideal.
Shortly after Mozgov's worst-case return date, Cleveland takes on the Miami Heat, Oklahoma City Thunder and Golden State Warriors, as well as the feisty Boston Celtics and ever-improving New York Knicks, a team that has already hung with the Cavs twice. Then in January, Cleveland meets a handful of the Western Conference's elite.
Injuries happen, and the Cavaliers will probably encounter more before the brutal schedule later on this year. But right now, the injuries to Williams and Mozgov are merely bumps on the road.