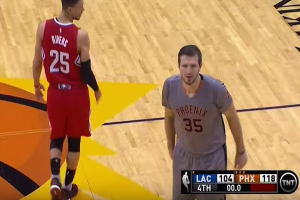 On Thursday night, as the buzzer sounded on the Suns' 118-104 victory over the Clippers, Austin Rivers had a few choice words for Mirza Teletovic.
I think.
See, inside 15 seconds to play, with the shot clock turned off and the Suns already leading 115-104, Teletovic drilled a wide-open three. Rivers, the son of Clippers head coach Doc Rivers, was not happy. That, or he wanted to let Teletovic know about proper NBA blowout etiquette.
Here's a video of what happened:
TNT announcer Reggie Miller gets more worked up about this than Rivers himself. But you can clearly tell the fourth-year guard isn't happy, either.
Which I get. It's an unwritten rule in the NBA that you just let the clock run out in that situation. The Suns absolutely destroyed the Clippers last night. Chris Paul was out as he continues to recover from injury, and Blake Griffin was ejected just 16 minutes into his night. Phoenix grabbed hold of the game fairly early and never let go.
But…come on.
The Clippers are kings of complaining and griping and, by many measures, don't appear well-liked throughout the league, at least from a competitive standpoint. Maybe Teletovic himself was trying to send a message, or maybe he just didn't give a flying shit, in which case perhaps that's a problem, something Suns coach Jeff Hornacek should talk to him about in the near future.
Or maybe, just maybe, Teletovic made a mistake, forgetting the context of the situation. It's totally possible. The Clippers left him so open, after all. That's a shot he takes at any other point during the game, and perhaps that impulse took precedent over his tacit duty to care about softening the blow for a shorthanded Clippers team.
Miller notes in the video that Rivers and his team will remember this moving forward. Really, though, they should forget it. Chances are Teletovic is going to. He didn't say one word to Rivers, who is four years his junior, as he left the floor. He clearly wasn't looking for trouble, or for a way to maliciously wedge the knife deeper into the Clippers' hearts.
He was, at least in my opinion, looking to get buckets, which he did, just at a semi-inappropriate time. And while wrong on some levels, there's nothing sadistic about such a harmless, if innocent, mistake.