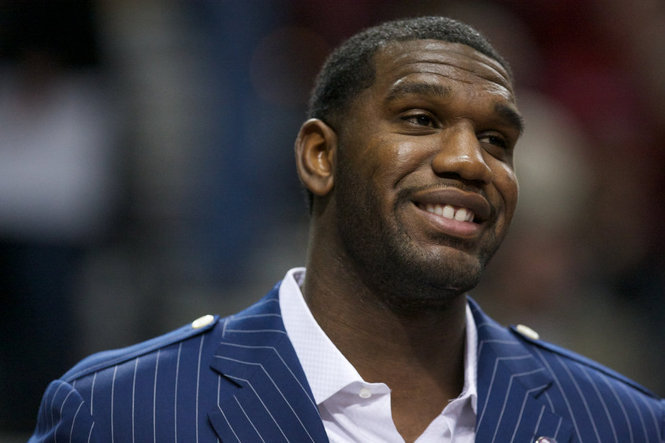 Oh what could have been…
Former #1 NBA Draft pick Greg Oden had the size, athleticism, mobility, and defensive prowess to potentially be one of the best to ever play the game coming out of college in 2007.
The 7 footer was so dominant as a freshman at OSU, that he, along with HS teammate Mike Conley Jr, helped lead the Ohio State Buckeyes to a Big Ten Title and the NCAA Tournament Championship Game, all essentially while playing with just one hand, since he was never even close to 100% following surgery to repair a torn ligament in his right hand. The Buckeyes finished runner-up, but Oden dominated future NBA greats like Joakim Noah and Al Horford, dropping 25 points, 12 boards, and 4 blocks in a losing effort to the Florida Gators.
Maybe that should have been a sign of things to come but who can predict injuries, right? Heading towards the 2007 NBA Draft, it was a 2 player race for who was going to be selected #1 overall between Greg Oden and another freshman phenom whom you might have heard of named Kevin Durant. While Oden was the lynch-pin of the Buckeyes, Durant was setting records and shattering scoreboards for the University of Texas.
With the top pick in the 2007 NBA Draft, the Portland Trailblazers selected Greg Oden, while the Seattle Supersonics took Kevin Durant. In their NBA careers, both have gone in separate directions as Durant is a 6 Time All Star and 2014 NBA MVP, while Oden struggled to remain healthy, playing in just 105 games with both Portland and Miami before signing a 1 year deal this offseason with the Jiangsu Dragons of the Chinese Basketball League.
The CBL has been a backdrop for several former NBA stars to rejuvenate their careers in recent years like Stephon Marbury, JR Smith, Metta World Peace, and Andray Blatche. While it's only the preseason, it looks as if the still only 27 year old Greg Oden may still have something left in the tank as he dropped 23 points and 14 rebounds in his CBL debut…
Please enable Javascript to watch this video
Allen Moll has been a lifelong NBA and NCAA College Basketball fan who watches and studies games religiously, and coaches youth basketball in his native Lehigh Valley region of Pennsylvania. Allen has also provided content to Bleacherreport.com, Upperdeckblog.com, Cleveland.com, CSN Philly.com, Buckets Magazine, Balltribe.com, in addition to being a tenured NBA and NCAA columnist for TheHoopDoctors.com.