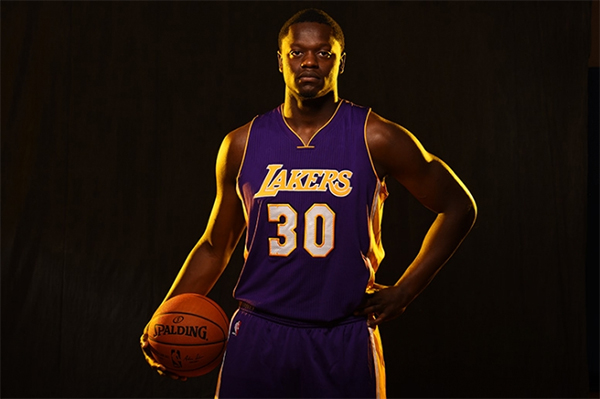 Julius Randle proved a handful of things during what was essentially his NBA debut, and a won't-back-down mentality certainly was one of them.
The Los Angeles Lakers power forward played a physical game Wednesday night against the Minnesota Timberwolves, finishing with 15 points and 11 rebounds. Julius Randle battled with veteran and T-Wolves legend Kevin Garnett throughout the night.
And it was a true battle, not merely an individual matchup.
From the second-year player tossing an in-bounds pass off of Garnett's back to a few arguments to some extracurricular activity away from the ball, Julius Randle never shied away from the veteran.
He said as much after the game, too.
"I'm not scared of anybody," Randle said, according to Mark Medina of the Los Angeles Daily News. "The main thing is we know that's his thing. That's what he does, try to get in people's heads. I've been watching him my whole life so I knew what to expect."
It's easy to say something like that, but Julius Randle wasn't lying. One of their verbal spats actually resulted in Garnett picking up a technical.
Randle gave Garnett a less-than-friendly bump when the veteran was jogging toward his spot on the block. Shockingly, someone considered one of the greatest trash-talkers in NBA history didn't take too kindly to the unnecessary—yet relatively humorous—elbow.
Randle says hi to KG https://t.co/5xSKwmr2GF

— Trevor Lane (@Trevor_Lane) October 29, 2015
The 20-year-old Randle earned a little praise from his own veteran teammate. According to Medina, Kobe Bryant said Randle was a "grown-ass man' for standing up to Garnett.
Other than the Lakers eventually losing 112-111, it was a wonderful night for Randle. After all, it was essentially the first game of his NBA career. Last season as a rookie, Randle landed awkwardly during the season opener, broke his leg and was lost for the season.
Julius Randle still has plenty of developing to do before we heap too much praise. He's a limited scorer, relies on his left hand and isn't a standout defender.
Nevertheless, Randle atones for his lack of versatility with sheer physicality that's advanced enough to handle a large portion of NBA post players. He showed fans what they had missed during the 2014-15 campaign and provided a legitimate reason to watch a Lakers team that won't make the postseason this year.
Come for Randle's bullying on the block, but stay for his fearless attitude.