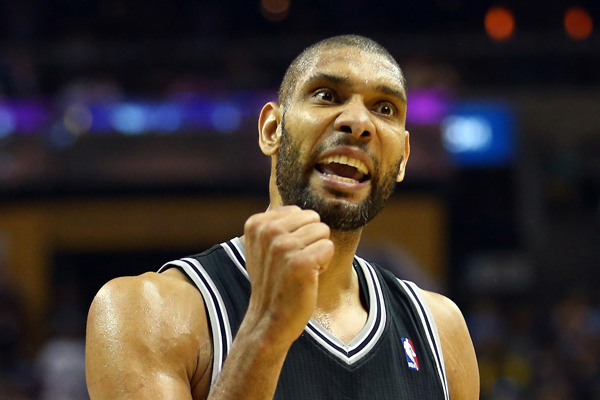 Tim Duncan is pretty generous.
It's easy to be generous, of course, when you've raked in nearly $235 million in career salary and aren't even done playing yet. But, relative to the NBA's financial stratosphere, Duncan has gone above and beyond and then back again—756 times.
This all started with yours truly traveling down a contractual rabbit hole on Basketball-Reference. Ahem:
155: The number of NBA players who, as of now, will be earning more than Tim Duncan next season. WUT. pic.twitter.com/PAlY4Fu7tn

— Dan Favale (@danfavale) August 18, 2015
Yes, 155 players will earn more than Duncan next summer, either from their own team or another organization. In Deron Williams' case, it's both. Both the Brooklyn Nets and Dallas Mavericks are paying him more than the San Antonio Spurs are paying Duncan.
Still, Williams' repeat appearance opened me up to some errors. Both he and Zaza Pachulia were listed twice on Basketball-Reference's 2015-16 salary page. That, ostensibly, brings the number of players in front of Duncan to 153:
Correction: Zaza and Deron listed twice. So, 153 players are slated to earn more than Tim Duncan next season. https://t.co/q4viJZ3jvf

— Dan Favale (@danfavale) August 18, 2015
Here's the thing: I'm pretty sure, though not entirely certain, that both Brendan Haywood and Gilbert Arenas are still cutting amnesty checks. Back in October 2013, Hoops Rumors' Luke Adams had both players being compensated for their terminated contracts through next season. If accurate, both will be earning more than Duncan this season—which, in turn, means 155 players are indeed cashing bigger checks than Timmy D in 2016-17.
And that's before considering the potential deal Tristan Thompson could get from the Cleveland Cavaliers. Same goes for J.R. Smith. Even if we're off by a couple players now, it's more than safe to say that 150-plus players will be making more than Duncan next season. And that is, unequivocally, absurd. Duncan may be 39, but he also ranked 11th in player efficiency rating last season, per Basketball-Reference. There's no way he should be earning less than guys such as Nick Young or incoming rookies.
That got me thinking: This isn't the first time Duncan has accepted less to the Spurs' gain…What's the extent of his benevolence?
When pitted against the other face of his generation, Kobe Bryant, the answer is chilling.
If both Duncan and Bryant retire after next season, the latter will have earned nearly $90 million more than the former. To be more exact, Kobe, per Basketball-Reference, will have secured $88,528,907 more in career earnings.
Again, absurd. Never mind taxes in Los Angeles. It's still absurd. And it gets crazier.
Looking at just the regular season, as well as Duncan's and Kobe's total win shares, we see that the Lakers have paid Kobe $1,751,808.56 per regular-season win. The Spurs have paid Duncan $1,166,546.50 per win share. We're talking about a difference of nearly $600,000 per win.
Absurd yet again.
Kobe's injuries have certainly aided in the gap between himself and Duncan, but missed games and general misfortune are all part of an NBA career. And Duncan is still having one helluva career.
Which isn't to suggest Kobe sucks.
It's just that Duncan, already an all-time great, will also go down as one of the best bargains in NBA history.