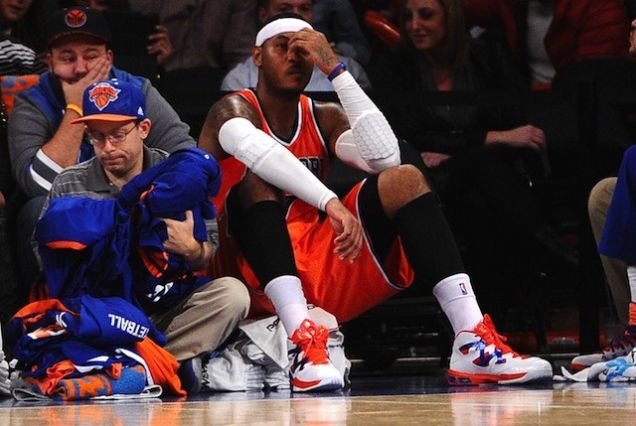 Carmelo Anthony and Phil Jackson are not in constant contact with one another.
Everybody panic.
With the New York Knicks electing to prioritize the long-term picture over the immediate one this offseason, a lot of people are left wondering where Melo fits into Jackson's apparent grand scheme. There were rumors that Melo was unhappy about Kristaps Porzingis' arrival—speculation Anthony himself quickly rebuffed—and it doesn't seem as if he was as involved in the Knicks' offseason maneuvers as he was initially supposed to be. While Jackson was recruiting and signing free agents, none of whom, it must be noted, are superstars, Melo was yucking it up on vacation with Chris Paul, LeBron James and Dwyane Wade.
On top of all that, he and Jackson haven't really spoken recently, according to the New York Daily News's Frank Isola:
Carmelo Anthony is a franchise player in name only. Phil Jackson revealed on Monday that he hasn't spoken with the Knicks superstar since the start of free agency and added that he isn't concerned if Anthony is upset over the direction of the club.

"Well, you know, we're a team sport," Jackson said. "When we're putting a team together that's our first priority; how do we make a team that works together? That's the important aspect. How this all comes together is still a mystery for us. We've got five months to kinda get into it here.

"Obviously Carmelo is a guy that is a premier player, we understand that. But it's a team game. And it has to fit together."
Look, people will make a bigger deal out of this than it actually is or needs to be. It is slightly weird that Anthony wasn't as involved in the Knicks' free-agent meetings, but all those were very hush-hush. There weren't details leaking out for them like there were for the Dallas Mavericks and Los Angeles Lakers. The Knicks were more San Antonio Spurs in this regard, operating in the shadows.
Plus, per various reports, Anthony did reach out to some of the bigger names in an effort to sell them on New York. You bet your ass Jackson knew about that. Perhaps he and Anthony ultimately decided beforehand that guys weren't interested and then adjusted accordingly.
Could there be some ill will brewing between Anthony and the Knicks organization? Sure. Though Jackson has said Melo is a top priority, he isn't the top priority. Fashioning a real team and foundation upon which the Knicks can build is now of the utmost importance.
And, in the end, that should help the Knicks in free agency next summer, when they presumably have a healthy Anthony, Kristaps Porzingis and a legitimate core on which to sell available talent. And it's likely that Anthony, who has a no-trade clause, gives the Knicks at least that long. No team is trading for his massive contract and compromising their flexibility for next summer right now anyway, especially the squads he would approve of.
For better or worse, Melo and the Knicks are still in this rebuild together. And while the rumor mill may paint pictures of discord and disconnects behind the scenes, just know that everything else the Knicks have done this summer suggests they're smarter than to keep the player who is still their franchise cornerstone in the complete and utter dark.