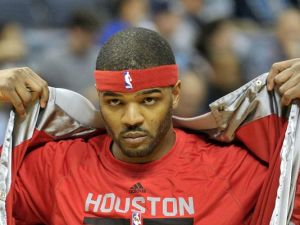 Josh Smith may not be the most reliable player on the offensive end, however, his defense and physicality was surely something that the Los Angeles Clippers desperately need.
The former Rockets forward is reportedly taking his talents someplace else, and that place is going to be at the City of Angels with Chris Paul and the Clippers for the upcoming 2015-16 NBA campaign, via Michael Scotto of Sheridan Hoops:
BREAKING: Josh Smith has decided to sign with the Los Angeles Clippers, a league source tells Sheridan Hoops.

— Michael Scotto (@MikeAScotto) July 16, 2015
This is a very good pick up for the Clippers, as they'll only be acquiring Smith for one year at the league minimum, and this was all made possible since the Pistons still owe him $5.4 million, included in their initial contract owed when they waived him.
Again, Smith doesn't really bring in offensive consistency. He loves taking shots beyond the arc despite shooting a career 28 percent from long range. Last season in Houston, he was just 33 percent.
However, the 29-year-old could certainly help ease the load for Jamaal Crawford in leading the second unit. Smith will provide them a solid defensive presence, who can grab rebounds on both ends and still get points in bunches when you least expect it.
The Clippers were made aware of that in Game 6 of their series against the Rockets this year, Smith scored 14 of his 19 points to extend their series to a Game 7 and eventually helped the Rockets eliminate the Clippers.
See for yourself:
In 55 games with the Rockets, Smith gave quality contributions by averaging 12.0 points, 6.0 rebounds, 2.6 assists and 1.2 blocks, while playing about 25.5 minutes per contest last season.
Now with a legitimate bench headed by Smith, Crawford, and Paul Pierce, the Clippers are looking much stronger and hungrier contenders for next season. The Western Conference is going to be even scarier.
Benjamin Felix Santos' basketball career didn't work out pretty well so he decided to write about basketball instead.
Follow @biefsantos