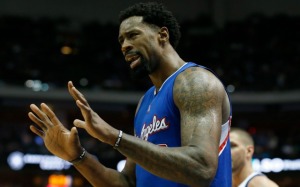 DeAndre Jordan is a baaaaaaaaaad man.
After agreeing to sign with Mark Cuban's Dallas Mavericks, the rebounding and shot-blocking machine flip-flopped on his decision Wednesday, just before the NBA's free-agency moratorium ended, electing instead to re-sign with the Los Angeles Clippers.
Things got weird and funny and ridiculous in the hours leading up to midnight, though. A Clippers contingent flew to Houston, where DJ has a home, and apparently wouldn't leave until they were sure he was still one of them.
Per ESPN.com's Ramona Shelburne:
CP3, Blake, Doc, Pierce all stayed at DJ's house until midnight ET, when DJ finally put pen to paper to stay in LA.

— Ramona Shelburne (@ramonashelburne) July 9, 2015
This supports what was floating around social media: The Clippers wouldn't let DJ meet with anyone from the Mavericks—not Cuban, not Chandler Parsons, not even Raymond Felton himself.
Clearly, it was true. It had to be true. The all-knowing Adrian Wojnarowski of Yahoo Sports said it was true:
So far, Clippers able to keep everyone else out of house, including Cuban, agents. Everyone. They're in four-corners until midnight Eastern.

— Adrian Wojnarowski (@WojYahooNBA) July 9, 2015
Apparently, though, the Clippers weren't boxing out the Mavericks, at least not physically. Nor was Jordan acting on their orders.
He actually froze out Cuban and co. all on his own, per Shelburne:
Last tweet of the night. DJ is in possession of his phone. Nobody took it or hid it. He just changed his mind..and iced out Mavs/his agent

— Ramona Shelburne (@ramonashelburne) July 9, 2015
Well, shit.
That explains Parsons' not-so-subtle subtweet:
I thought I had a good pump fake.

— Chandler Parsons (@ChandlerParsons) July 9, 2015
It does not, however, explain Blake Griffin's Twitter musings:
Don't agree with the furniture layout but I'm not an interior designer. pic.twitter.com/23PNgQB88z

— Blake Griffin (@blakegriffin32) July 9, 2015
To answer your question, yes, Blake won Twitter Wednesday night. But that's not the point.
The point is, at the center of all the rumors and speculation and emoji wars, there was Jordan, the puppet master of everything. He was not necessarily the victim of agent Dan Fegan's convenient history with Cuban. He had his phone. He wasn't bound and gagged by Chris Paul. He could have spoken with Cuban and friends and explained the situation.
Maybe he even did.
Just know that if he didn't, it's on him more than the Clippers themselves—rampant social-media scuttlebutt be damned.