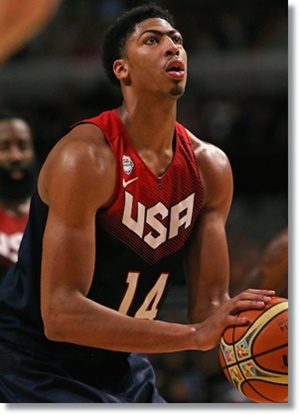 The last time the basketball World was focused on USA Basketball, the US Men's National Team, led by MVP Kyrie Irving, James Harden, and Anthony Davis, were putting a whooping on Serbia to win the Gold Medal in the 2014 FIBA World Championships in Madrid, Spain.
Team USA won their 2nd consecutive FIBA World Cup Gold Medal last September, blowing out Serbia 129-92, becoming just the 3rd country in World Cup history to win consecutive crowns, and more importantly earning USA an automatic bid to the 2016 Olympic Games in Rio de Janiero, Brazil.
But the interesting question remains of just which players will make up the 2016 Team USA squad now that long time participants like Kobe Bryant, Lebron James, and Dwyane Wade are well into their 30's and aruably past their primes?
The answer to that question should become a tad clearer when USA Basketball holds a 3 day mini-camp in Las Vegas beginning August 11th and running through the 13th, in what is to be a legitimate evaluation and cutdown of the now 32 man roster.
This won't be the final roster as superstar players will more than likely be added before next season but it will be interesting to see some players once again hooping after missing some time due to injury like Carmelo Anthony, Paul George, and Kevin Durant.
It was reported that players like Demar DeRozan and Damian Lillard will be in attendance but not participating as others like Kyrie Irving, Kevin Love, Chandler Parsons, as well as Durant and Anthony will be there despite still recovering from injury.
USAB managing director Jerry Colangelo, meanwhile, told ESPN.com that next month's camp will actually serve as more of a "reunion" for various players who have worked under Colangelo and Team USA coach Mike Krzyzewski in the past two Olympic tournaments and the past two world championship-level events.
Right now the roster stands at more than 40 players, including the 34 announced last September plus 7 new invitees, but must be whittled down to 13 participants prior to the Rio Games in 2016.
Here is a full list of the participants invited to the 2015 Team USA Mini-Camp in Las Vegas:
34 Man Roster as of September 2014
LaMarcus Aldridge, San Antonio Spurs
Carmelo Anthony, New York Knicks
Bradley Beal, Washington Wizards
Tyson Chandler, Phoenix Suns
Demarcus Cousins, Sacramento Kings
Stephen Curry, Golden State Warriors
Anthony Davis, New Orleans Pelicans
Demar DeRozan, Toronto Raptors
Andre Drummond, Detroit Pistons
Kevin Durant, Oklahoma City Thunder
Kenneth Faried, Denver Nuggets
Rudy Gay, Sacramento Kings
Paul George, Indiana Pacers
Blake Griffin, LA Clippers
James Harden, Houston Rockets
Gordon Hayward, Utah Jazz
Dwight Howard, Houston Rockets
Andre Iguodala, Golden State Warriors
Kyrie Irving, Cleveland Cavaliers
Lebron James, Cleveland Cavaliers
Kyle Korver, Atlanta Hawks
David Lee, Boston Celtics
Kawhi Leonard, San Antonio Spurs
Damian Lillard, Portland Trailblazers
Kevin Love, Cleveland Cavaliers
Paul Millsap,, Atlanta Hawks
Chandler Parsons Dallas Mavericks
Chris Paul, LA Clippers
Mason Plumlee, Portland Trailblazers
Derrick Rose, Chicago Bulls
Klay Thompson, Golden State Warriors
John Wall, Washington Wizards
Russell Westbrook, Oklahoma City Thunder
Deron Williams, Dallas Mavericks
8 Players Added To Roster in July 2015
Jimmy Butler, Chicago Bulls
Mike Conley Jr, Memphis Grizzlies
Draymond Green, Golden State Warriors
Harrison Barnes, Golden State Warriors
Tobias Harris, Orlando Magic
Victor Oladipo, Orlando Magic
Trey Burke, Utah Jazz
Michael Carter-Williams, Milwaukee Bucks
Allen Moll has been a lifelong NBA and NCAA College Basketball fan who watches and studies games religiously, and coaches youth basketball in his native Lehigh Valley region of Pennsylvania. Allen has also provided content to Bleacherreport.com, Upperdeckblog.com, Cleveland.com, CSN Philly.com, Buckets Magazine, Balltribe.com, in addition to being a tenured NBA and NCAA columnist for TheHoopDoctors.com.