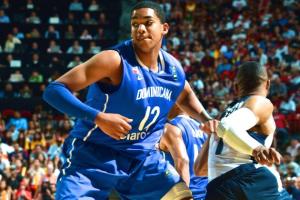 With just two days away before the commencement of the 2015 NBA Draft, it seems like the Timberwolves, who'll be selecting first overall, have already decided among the various and very talented prospects available for picking.
And to no one's surprise, the Timberwolves have 'guaranteed' Karl-Anthony Towns of Kentucky that he will be going first overall.
From Adam Zagoria of ZagsBlog:
The Minnesota Timberwolves have informed Karl-Anthony Towns that they will select him with the No. 1 pick in Thursday's NBA Draft, a source close to Towns told SNY.tv.
This would definitely be the predictable selection for the Wolves, as Towns has seemingly surpassed fellow top-prospect Jahlil Okafor, as the top big man prospect in this year's draft by the account of many draft analysts.
In pre-draft workouts Towns is really looking like the real deal. A versatile big man with the size, the athleticism and the shooting range rarely seen in a big man coming right out of college.
Towns' selection by the Wolves would pair him with Andrew Wiggins, of which the duo is being seen as a potential future duo that could take the league by storm. Also, a mentor like Kevin Garnett will be of huge benefit to Towns, as it could help him grow and adapt to the more physical nature of the NBA. Garnett being a master of trash talk and getting guys out of their mental game, could also help Towns adjust to the pressures of the league.
The future is bright in Minnesota.
Benjamin Felix Santos or a.k.a Bief's basketball career didn't work out pretty well so he decided to write about instead. So far, there haven't been any regrets at all. His passion and love for the game will never die.
Follow @biefsantos