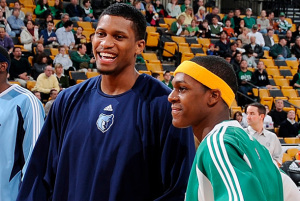 Free agency hasn't even started yet, but it's already been crazy around the league's rumor mill the past few days, Sacramento being front and center.
Without a doubt the Kings' top priority is still dealing with their All-Star center DeMarcus Cousins, who's been the center of attention of late. However, they have also been assessing other situations, particularly their number 6 pick in the draft and small forward Rudy Gay, which apparently they are willing to shop.
From Adrian Wojnarowski of Yahoo! Sports:
For now, the Kings are pursuing trade scenarios for everyone on the roster, including talented forward Rudy Gay, league sources told Yahoo Sports.

Sacramento officials believe it will be difficult to find a trade partner that can give the Kings the value it wants for Cousins – and has a better chance to find a deal for Gay, sources said.
Ranadive doesn't want to rebuild with a move into a new arena on the horizon, and Karl is chasing Don Nelson's all-time NBA career victories record. Karl's interest isn't in cultivating long-term assets, but rather compiling as many victories as possible in the near future.
Most teams trying to trade into the lottery believe the Kings are determined to package the sixth overall pick to bring back veteran talent.
Sacramento is motivated to find a way to create more salary-cap space with possible deals, something that the Kings will need to pursue Dallas Mavericks free-agent point guard Rajon Rondo, league sources said. The Kings and Rondo have a mutual interest, with Rondo intrigued with the idea of a potential one-year deal in Sacramento that could help to rebuild his league-wide value, sources said.
If they're to add some veteran presence, Rajon Rondo can definitely fulfill more than just that. The 29-year-old point guard is coming off a short and disastrous stint with Dallas and will definitely be under a lot of pressure to prove his worth in the league. Not only that but he has work to do to repair his image as a guy who can't get along with teammates or coaches.
Because of his struggles in Dallas, the Kings could actually get Rondo at a fair price giving them the financial flexibility to possibly acquire other free agent talent.
One thing is clear for Sacramento; it'll be one hell of an offseason.
Buckle up.