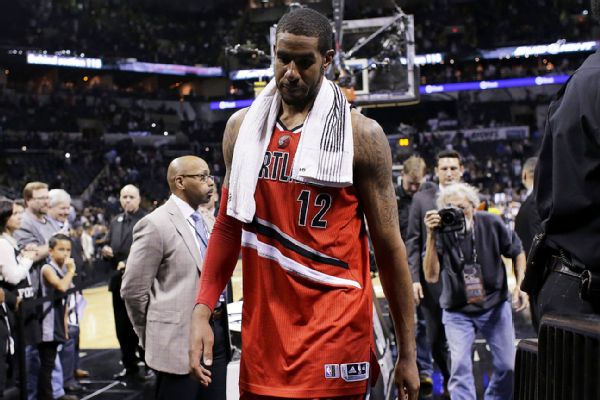 LaMarcus Aldridge is planning on leaving the Portland Trail Blazers.
Probably.
Maybe.
We think.
Ahead of the 2015 NBA draft, The Columbian's Erik Gundersen reported that Aldridge had already informed the Blazers he was planning on leaving in free agency. ESPN Marc Stein and Chris Broussard then corroborated those findings, going as far as calling the San Antonio Spurs Aldridge's "most likely" destination:
"He's gone," a source close to Aldridge said. "There's a 99.9 percent chance that he's out of Portland."

The sources listed several reasons Aldridge is expected to leave the Blazers, for whom he has played since entering the league in 2006. They said that he doesn't believe the Blazers can attract top free agents to improve the team, that he feels somewhat underappreciated by the organization and that he simply is looking for a new environment to live in.

Sources told Stein that the Blazers have been pressing for more concrete signals from Aldridge's camp about his plans before the July 1 start of free agency and are ?increasingly fearful they have little chance of retaining the All-Star big man once he hits the open market.

On the list of teams Aldridge will consider signing with are the San Antonio Spurs, Los Angeles Lakers, New York Knicks, Dallas Mavericks and Atlanta Hawks, sources said. Aldridge is actually thinking more and more about a free-agent jump to the Lakers, sources told Stein this week.
Sounds about right. The Blazers flipped Nicolas Batum to the Charlotte Hornets for Gerald Henderson and Noah Vonleh, and then traded for Mason Plumlee on draft night, moves that seem to signal a rebuilding period Aldridge should, in theory, want no part of.
But general manager Neil Olshey was singing a different tune during his chitchat with reporters.
From The Oregonian's Joe Freeman:
"I hung up with LaMarcus a half hour ago," Olshey said. "LaMarcus and I speak multiple times every week. He was as bemused by the report as I was. Thankfully I had other things to distract me today from getting too infuriated from the misreporting.

"I spoke with LaMarcus. I actually asked him, 'How would you like me to address it?' He said, 'Just say it's not true. You and I know where we are right now.' It was misreported. It's not true. I can tell you he has not informed anybody in this organization his intention not to return to the team. We've always know that LaMarcus was going to have a robust free agent market. It was a market we were going to compete in. It's a market we're still going to compete in. But in no way has he given us any indication that he's not returning to the Trail Blazers."
Interesting.
Still, the moves remain ominous. Having Aldridge, Meyers Leonard, Plumlee and Vonleh on the same roster is weird, and Batum's departure doesn't make a whole lot of sense when the Blazers don't even know if they're going to retain Wesley Matthews.
Maybe Aldridge didn't tell the Blazers he's leaving. That's totally possible, if not likely, given how Olshey handled the situation.
At minimum, though, it seems like the Blazers, irrespective of whether Aldridge has informed them of anything, are operating under the assumption that he's gone.