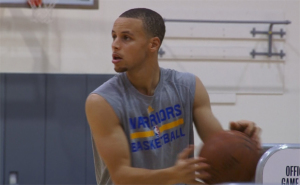 We all know Stephen Curry is the best shooter right now in the league. Arguably the best the game has ever seen in its history.
Check out this recent report that states Curry nailed 77 straight three-pointers during a practice session, no joke…
Curry told ESPN the 77 represents the most he's ever made in a row. Out of 100 shots taken during the session, he made 94.

Teammate Klay Thompson, who is second in the NBA with 234 made 3s, told ESPN he couldn't believe Curry had made 77 straight and that his own record streak is 36.
And here's a video of the feat for the doubters:
https://www.youtube.com/watch?v=mMlF6KUfsjk
Benjamin Felix Santos is an aspiring NBA writer, who bleeds the purple and gold. His love and passion for the game will never die.
Follow @biefsantos