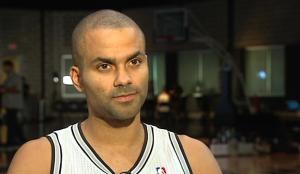 Over the past two decades, the San Antonio Spurs have established themselves as the model franchise for all major sports.
From David Robinson to Tim Duncan to Manu Ginobili to Tony Parker, the proverbial torch has been seamlessly passed to the team's next superstar.
Since Duncan's NBA debut in 1997, the Gregg Popovich-coached Spurs have tallied at least 50 victories in every season except for the 50-game 1998-99 campaign. Each of the four players occupied leading roles at various times during that stretch, but the team never faltered.
This season, 23-year-old Kawhi Leonard has slowly initiated his takeover of the Spurs. And once again, the most-recent leader of the roster has been willing to relinquish the reins and become the second option.
Following San Antonio's 110-98 victory over the Houston Rockets on Wednesday, Parker described how Kawhi's emergence has demanded a new offensive balance. Dan McCarney of the San Antonio Express-News provided the transcription.
One of the better quotes I can ever remember from Parker, on striking balance with Leonard: pic.twitter.com/7AzeVMoM0z

— Dan McCarney (@danmccarneySAEN) April 9, 2015
Parker has carried the Spurs during recent seasons, most notably throughout the last two campaigns that both included Western Conference championships and one NBA title.
Yet on a night when he racked up a game-high 27 points on a 13-of-18 shooting mark, Parker, who is still performing at an elite level, acknowledged that Leonard is asserting himself as the key to this squad.
I'll try to do my best to stay aggressive and be involved. But Kawhi's going to be the man. He's playing great and sometimes I'll have nights like this where I have the ball. But most of the time it's going to be Kawhi.

…So I'll play off him, like all those years I did with Timmy. I'll just stand in the corner and just wait for Timmy to do his thing. We always did a great job sharing and wait our turn. It will be no different with me."
To make this notion a little more impressive, it appears unlikely that Kawhi—a soft-spoken, sometimes expression-less superstar—will reverse the ideal.
Pop lauded Leonard's lack of emotion after a steal and dunk against the Golden State Warriors, as noted by Jeff McDonald of the Express-News.
Pop, on his favorite part of Kawhi Leonard's big night vs. Warriors: pic.twitter.com/jM9S351ZCt

— Jeff McDonald (@JMcDonald_SAEN) April 7, 2015
The Spurs simply do not have any unnecessary egos. In the current state of pride-filled, flashy, overly emotional basketball, the continuation of San Antonio's trend just seems unreal.
But it's refreshing. We may never observe another collection of superstars as selfless as the quintet who have donned silver and black. Enjoy it while we can.
In addition to his work for The Hoop Doctors, David Kenyon contributes to Bleacher Report and Sportsnaut. You can follow him on Twitter: @Kenyon19_BR.