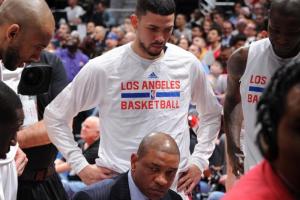 When Los Angeles Clippers head coach and President of Basketball Operations Doc Rivers traded for his son Austin Rivers, the move was widely scrutinized—and for good reason.
The roster desperately needed a wing defender, yet they traded Reggie Bullock and Chris Douglas-Roberts while releasing Jordan Farmar to make room for the young Rivers. It further depleted Los Angeles' already-thin bench, since Rivers wasn't really an upgrade over Farmar.
But even a blind squirrel finds a nut once in awhile.
At least for one pivotal playoff game, Rivers proved his dad right. The point guard tallied 16 points on 7-of-8 shooting in just 17 minutes of action, helping the Clippers knock off the defending-champion San Antonio Spurs 114-105 Sunday to even the first round series at two apiece.
Rivers scored all seven points during a 7-1 run in the second quarter, a critical stretch when Los Angeles' starters were on the bench. He flat-out overpowered Patty Mills in the post for an easy layup and knocked down a couple jumpers.
Austin Rivers going AT Patty Mills. Kind of awkward.

— Matthew R Tynan (@Matthew_Tynan) April 26, 2015
Rivers' contributions eased the burden on Chris Paul, who shredded San Antonio for 34 points and seven assists, while Blake Griffin added 20 points, 19 rebounds and seven assists.
But that's the craziest part: The superstar duo played stellar games, and the Clippers needed to hold off the Spurs late in the fourth quarter. Without Rivers—since J.J. Redick, an underrated key to LA's offense, struggled from the perimeter—San Antonio would've taken a decisive 3-1 series edge.
Los Angeles' bench does not form an imposing unit. Jamal Crawford plays clutch minutes, but that leaves Rivers and Glen "Big Baby" Davis as the only reserves who actually play. Though Hedo Turkoglu might log a couple forgettable possessions, that's it.
The Spurs are very likely to negate deficits or extend advantages when Doc Rivers—who rarely staggers his starters, for some stunning reason—sends out the backups. But if Rivers' confidence and production continues into Games 5, 6 and perhaps 7, Los Angeles will be in a much better position to pull off the upset.
Rivers can help change the series. When Doc and the franchise finalized the trade for the coach's son, that phrase was not expected to be realistic.
But it is; It's unbelievably legitimate. Paul recognized it, too, as noted by Dan Woike of The Orange County Register.
I came into one of the timeouts, and I told Austin, I said, 'Man, I trust you. I believe in you. Be aggressive.' And without his production today, we don't win the game."
Rivers can help change the series. Welcome to the NBA playoffs, where things get really weird.
Unless otherwise noted, stats are courtesy of Basketball-Reference.com and are accurate as of April 26.
In addition to his work for The Hoop Doctors, David Kenyon contributes to Bleacher Report and Sportsnaut. You can follow him on Twitter: @Kenyon19_BR.