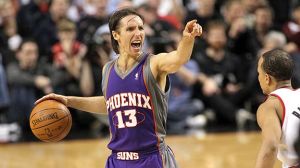 NBA basketball lost one of it's best all time players and inarguably one of the ambassadors over the weekend to retirement. As a 2 time NBA MVP and 8 time NBA All Star, Steve Nash announced his retirement from the Association at the age of 41.
The past two seasons in Los Angeles had been a struggle for Nash, as he missed significant portions of playing time (only 60 games played) due to nagging back, hip, and nerve injuries, that ultimately forced his retirement in the midst of his 19th NBA season.
Nash was at his best in his 2nd stint with the Phoenix Suns, winning back-to-back NBA MVP Awards in 2005 and 2006, leading the Association in assists 5 times, and 4 times recording a magical 50-40-90 season. An incredible accomplishment since only 11 have been recorded in NBA history, with Nash and Larry Bird compiling 7.
The Canadian born Nash has come a long way from fighting for a college scholarship, then getting drafted, then playing time behind Kevin Johnson and Jason Kidd as a rookie. As the #15 overall pick in the 1996 Draft by the Suns to retiring as a surefire Hall of Famer, ranking 3rd all time in assists behind only John Stockton and the aforementioned Kidd, as well as ranking as the best FT shooter of all time(.904%), just ahead of Mark Price, Nash will certainly be missed. Considered by many as a magician with the ball, and one of the most efficient shooters in league history, many regard Nash as the greatest point guard to ever play the game.
He was one of the most stellar fundamental players at his position we've ever seen, winning the Skills Competition at All Star Weekend twice, being named to the All NBA 1st Team 3 times, and ranking Top 10 all time in 3 point percentage.
He was a master of the pick-and-roll classic NBA game, first finding success with teammate Dirk Nowitzki in Dallas, then with Amare Stoudemire in Phoenix.
Some may point to his rather mediocre defense and the fact that he never led his team to an NBA Title or a Championship Game appearance, but Nash will go down as one of the best offensive floor generals we have ever seen without a doubt.
Much love Mr. Nash, you are a legend, icon, and role model.
Check out an amazing Steve Nash Career Mix followed by the Top Ten Assists of his career…
Please enable Javascript to watch this video
Please enable Javascript to watch this video
Allen Moll has been a lifelong NBA and NCAA College Basketball fan who watches and studies games religiously, and coaches youth basketball in his native Lehigh Valley region of Pennsylvania. Allen has also provided content to Bleacherreport.com, Upperdeckblog.com, Cleveland.com, CSN Philly.com, Buckets Magazine, Balltribe.com, in addition to being a tenured NBA and NCAA columnist for TheHoopDoctors.com.