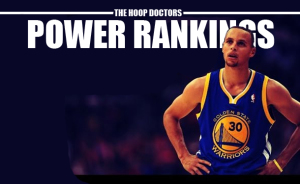 Fuhgettabout March Madness. The NBA playoffs are almost here.
Sure, you could watch college kids, some of them highly touted Association prospects, soak up late-winter, early spring spotlight as they sap 30 seconds off the 35-second shot clock trying to score, only to usually not score, en route to securing or losing a national championship that honestly and truthfully has no bearing on their NBA draft stock. You could absolutely, positively do that.
Or you could stick with the NBA, keeping March Madness in your peripherals, but never at the forefront of your mind, as you watch the Association's postseason picture unfold. In doing so, you'll get to find out if the Spurs will ever start Spurs-ing indefinitely, whether Rudy Gobert is human and which of the Thunder or Pelicans will make the better, more esteemed Big Dance.
And that's just the beginning. The NBA is alive with stock surges and drops and postseason seeding battles at the moment. What follows matters. So here's to spitting in March Madness' face, if only to prove the following point: The NBA rules.
To the power rankings horse-drawn buggy!
*Welcome back to The Hoop Doctors' PG-13 NBA Power Rankings, where almost anything goes. Language may sometimes not be suitable for those reading at work, in which case I recommend you don't read these aloud or you get a new job. Like most PG-13 movies, we'll permit one F-bomb per post. Those devoid of a sense of humor need not proceed.
***For a week by week list of all our NBA Power Rankings this season, please visit this page.
NBA Power Rankings
| | |
| --- | --- |
| 1 | |

Golden State Warriors

Warriors are on pace to have the fourth-highest SRS score—a cumulative measurement of a team's performance relative to its schedule—in NBA history, per Basketball-Reference. Only the Bulls of 1991-92, 1995-96 and 1996-97 had a higher rating.

Last Week (1)

| | |
| --- | --- |
| 2 | |

Atlanta Hawks

Kevin Love to the Hawks this offseason. Let's make it happen.

Last Week (2)

| | |
| --- | --- |
| 3 | |

Cleveland Cavaliers

Paul Millsap to the Cavaliers this offseason. Let's make it happen.

Last Week (3)

| | |
| --- | --- |
| 4 | |

Houston Rockets

This Dwight Howard stuff is weird. His free agency in 2016 is going to be interesting.

Last Week (4)

| | |
| --- | --- |
| 5 | |

Los Angeles Clippers

Chris Paul is averaging at least 18 points, 10 assists and 1.5 steals per game for the fifth time in his career, something only Magic Johnson has ever done before, per Basketball-Reference. No big deal.

Last Week (8)

| | |
| --- | --- |
| 6 | |

San Antonio Spurs

Brutal stretch for the Spurs to close out the season. Eleven of final 15 games come against teams over .500, 10 of which are Western Conference squads. And, oh, the Spurs haven't beaten a West playoff outfit in two months.

Last Week (6)

| | |
| --- | --- |
| 7 | |

Dallas Mavericks

Dallas is the most up-and-down title contender this season, maybe ever.

Last Week (10)

| | |
| --- | --- |
| 8 | |

Memphis Grizzlies

Panicking over a Grizzlies slump is cliche at this point, but you have to wonder, given recent events, if they're built to make it out of the second round.

Last Week (5)

| | |
| --- | --- |
| 9 | |

Portland Trail Blazers

Portland's new starting lineup hasn't looked good at all.

Last Week (9)

| | |
| --- | --- |
| 10 | |

New Orleans Pelicans

Brow power is the best power.

Last Week (12)

| | |
| --- | --- |
| 11 | |

Washington Wizards

Washington is getting hot at the right time. Bradley Beal, however, is still pretty cold.

Last Week (16)

| | |
| --- | --- |
| 12 | |

Oklahoma City Thunder

Russell Westbrook is an uncontrollable fire, but the Thunder won't make the playoffs if Kevin Durant isn't Kevin Durant upon return.

Last Week (7)

| | |
| --- | --- |
| 13 | |

Toronto Raptors

Milwaukee projects as a dangerous playoff draw for the seesawing Toronto.

Last Week (15)

| | |
| --- | --- |
| 14 | |

Chicago Bulls

Tough to get a read on the Bulls. Defense really isn't where it needs to be, but they should have enough talent to clinch a top-four playoff seed.

Last Week (14)

| | |
| --- | --- |
| 15 | |

Utah Jazz

WE ARE ALL RUDY GOBERT.

Last Week (17)

| | |
| --- | --- |
| 16 | |

Miami Heat

Dwyane Wade will see your argument as to why he's too old and declining and decaying, and he will raise you one Fuck off.

Last Week (19)

| | |
| --- | --- |
| 17 | |

Boston Celtics

Boston has to make the playoffs. Postseason Tyler Zeller needs to be a thing, after all.

Last Week (18)

| | |
| --- | --- |
| 18 | |

Indiana Pacers

Pacers have suddenly cooled off. Given the way Miami is playing, it looks like they'll be fighting for eighth place with the Celtics.

Last Week (11)

| | |
| --- | --- |
| 19 | |

Milwaukee Bucks

Oh, hey, Michael Carter-Williams is making valuable contributions to a playoff team.

Last Week (13)

| | |
| --- | --- |
| 20 | |

Phoenix Suns

If not for Eric Bledsoe, the Suns would border on unwatchable.

Last Week (22)

| | |
| --- | --- |
| 21 | |

Charlotte Hornets

Too many injuries and poor roster fits in Charlotte. The Hornets won't make the playoffs. I've waffled on this, but that's the final verdict. Make it your own.

Last Week (20)

| | |
| --- | --- |
| 22 | |

Denver Nuggets

Melvin Hunt is coaching well, and the players are not only improving, they're winning.

Naturally the Nuggets must put a stop to such madness, so they're officially in bench-everyone mode.

Last Week (23)

| | |
| --- | --- |
| 23 | |

Brooklyn Nets

So long as we're being honest, the Nets actually have too much talent to miss the playoffs…………………..And yet, they're going to miss the playoffs.

Last Week (21)

| | |
| --- | --- |
| 24 | |

Orlando Magic

Elfrid Payton's combination of court vision and defense hasn't been this prevalent in a rookie point guard since CP3.

Last Week (24)

| | |
| --- | --- |
| 25 | |

Detroit Pistons

Trading for Reggie Jackson was a good tanking move by Stan Van Gundy.

Last Week (25)

| | |
| --- | --- |
| 26 | |

Sacramento Kings

Just sit DeMarcus Cousins for the rest of this season, Kings. Dude is laboring. No use putting him at risk as you play for nothing.

Last Week (26)

| | |
| --- | --- |
| 27 | |

Philadelphia 76ers

Nerlens Noel is on pace to have the fourth-best defensive box plus/minus score of any rookie ever, according to Basketball-Reference.

Last Week (29)

| | |
| --- | --- |
| 28 | |

Los Angeles Lakers

For a team that will likely begin next season with two top-seven picks on its roster, the Lakers' future isn't especially bright.

Last Week (28)

| | |
| --- | --- |
| 29 | |

New York Knicks

Alexey Shved looks like a real, live NBA player. I have not yet confirmed what type of thaumaturgic elixir Phil Jackson and Derek Fisher are forcing down his gullet.

Last Week (30)

| | |
| --- | --- |
| 30 | |

Minnesota Timberwolves

Ricky Rubio is still making impossible passes. That is all.

Last Week (27)