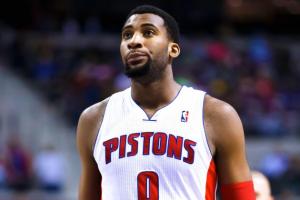 The Detroit Pistons' acquisition of Reggie Jackson hasn't really gone as hoped. Stan Van Gundy's team has dropped eight straight contests, tumbling to a 23-41 record while falling to the likes of the New York Knicks, Charlotte Hornets and Los Angeles Lakers.
Just two weeks after it looked like Detroit could finish off an outstanding run to the eighth seed in the Eastern Conference, the Pistons' playoff hopes are just about finished.
But forget that for a moment; Let's talk about Andre Drummond.
And there's @AndreDrummondd's double-double .. 10 and 10 in 14 minutes

— Keith Langlois (@Keith_Langlois) March 12, 2015
Basketball is not an individual sport. Teams are defined by victories, and if they boast enough by the end of the regular season, consequently, judgment shifts to playoff success—or lack thereof.
But hoops fans, we really need to talk about Andre Drummond.
20 boards for @AndreDrummondd

— Keith Langlois (@Keith_Langlois) March 12, 2015
A former first-round pick, Drummond is one of the rare draftees who actually pans out immediately. He's not a perfect player by any means, but the 6'11", 279-pound monster is an excellent rebounder.
But Drummond accomplished something on Wednesday night in a loss to the Golden State Warriors that was nothing short of jaw-dropping.
The box score showed the Detroit center grabbed 27 total rebounds, something only done on 43 occasions during the last 30 years, per Basketball-Reference.com. But that wasn't it.
Grabbing 10 defensive rebounds certainly wasn't face-numbing, either, considering 848 other players have reached that number in the same time frame. So no, that wasn't anything near special.
But Drummond racked up 17 offensive rebounds. That shouldn't even be possible. He became just the fourth player—joining Charles Oakley, Dennis Rodman and Jayson Williams—to snatch that many since the stat was officially tracked.
Additionally, he grabbed at least one offensive board on 14 different possessions. Fourteen! This wasn't simply a tip-show where Drummond registered three or four on multiple trips down the court, slyly padding his stats. He dominated the Warriors on the glass throughout the entire night.
Drummond already held the league lead with 5.1 per night on that end of the floor, and the unbelievable performance increased his already lofty average.
Unfortunately for the Pistons, those 17 rebounds only turned into 16 second-chance points, which is where the "team" part of basketball remains important. They fell to Golden State 105-98, likely wishing Drummond could've tipped in a rebound just four more times.
However, when a team like Detroit has already played itself out of a potential playoff berth, it's perfectly acceptable to revel in an individual accomplishment like Drummond's and ignore that his club lost. The latter fact just doesn't matter at this point.
Drummond is just 21 years old. This probably won't be the only time he achieves the absurd mark.
Maybe next time, though, a Detroit victory would actually mean something.
Unless otherwise noted, stats are courtesy of Basketball-Reference.com and are accurate as of March 12.
In addition to his work for The Hoop Doctors, David Kenyon contributes to Bleacher Report and Sportsnaut. You can follow him on Twitter: @Kenyon19_BR.