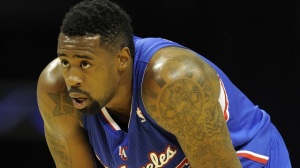 In 2013, DeAndre Jordan talked about his need improve and added, "I know that defensively it starts with me down there." At the time, Jordan averaged 1.4 blocks per game and 0.6 steals. Today, Jordan had taken his defensive game to a new level, blocking 2.4 shots per game and grabbing 0.9 spg. On the cusp of DeAndre Jordan's 27-rebound game against the Dallas Mavericks, we take a look back at DeAndre's improvement and his potential to help Doc Rivers and the Los Angeles Clippers win that illusive championship.
6'11 Jordan played one season for Texas A&M before being selected 35th (2nd round) by the Los Angeles Clippers in 2008. In his first two seasons, Jordan did not get on the floor much, but he was able to average about 1 block and shoot a high percentage, still the trademarks of his game.
Oh, and he dunks a bit too.
But, even four years later (2013), Jordan was only giving the Clips 8.8 ppg, 7.2 rpg, and 1.4 bpg, but Doc Rivers believes in him. Jordan has the desire to improve, and he's been able to do that, posting career-highs in rebounds (13.6, 13.7), points (10.4, 10.5) and blocks (2.5, 2.4) these last two seasons.
Jordan's Monday night's 22-point, 27-rebound and 3-block performance was a thing to behold. Not to be out-done, All-Star point guard Chris Paul led the Clippers with 25 points, 13 assists, and 10/10 from the free throw line in the Clippers 115-98 drilling of the Dallas Mavericks. Jamal Crawford added 22 points off the bench.
Monday's 115-98 Clippers win over Dallas:
The Mavs, led by Charlie Villanueva (26), Dirk Nowitzki (18), and Chandler Parsons (16), were under-manned with Rajon Rondo already out, but then Tyson Chandler (left ankle) and Monta Ellis (left hip) were injured in Monday's game against the Clippers. The Clippers played with no sympathy for the Mavs, of course, already down their own big man Blake Griffin, who will miss 3 weeks due to elbow surgery. But, one has to wonder if Jordan's 27 rebounds mean quite as much, since he was playing against Chandler's backup(s)?
Regardless, this year the Clippers' core is putting up another strong season.
| | | | |
| --- | --- | --- | --- |
| Blake Griffin | 22.5 ppg | 7.5 rpg | 5.1 apg |
| DeAndre Jordan | 10.5 ppg | 13.7 rpg | 2.36 bpg |
| Chris Paul | 17.8 ppg | 9.7 apg | 1.92 spg |
This doesn't look like the Clippers' season so far, as they have fallen to 6th (39-14) in a super strong Western Conference, but then again only two and a half games separate 3rd and 7th place in the West.
Whether the Clippers will ever win a championship remains to be seen, but Rivers knows the model he wants to create, and DeAndre Jordan is even better than Kendrick Perkins was, Blake Griffin is younger than Kevin Garnett was, so they are pretty close.
If the Clippers can stay healthy, and maybe get a stronger starting shooting guard (sorry J.J., and, yes, we know you're scoring a career high), they will be among the NBA's best for years to come, with their still young core of Blake Griffin (25), DeAndre Jordan (26), and Chris Paul (28).