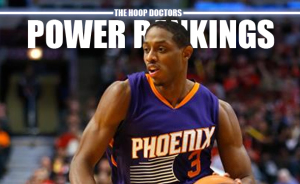 Goodbye, All-Star discussion and NBA trade deadline.
Hello, playoff race.
It's that time of year again. The focus is on the playoffs and various position-jockeying that's going on. This week we have a lot of movement to cover, from the Blazers' slump, to the Spurs' mounting cankers, to the Thunder's improbable surge, to the Sixers and Knicks engaging in a battle of suck.
Mince words, we shall not. The NBA's regular season is winding down, and it's time to get weird.
Immediately.
To the power rankings boxcar!
*Welcome back to The Hoop Doctors' PG-13 NBA Power Rankings, where almost anything goes. Language may sometimes not be suitable for those reading at work, in which case I recommend you don't read these aloud or you get a new job. Like most PG-13 movies, we'll permit one F-bomb per post. Those devoid of a sense of humor need not proceed.
***For a week by week list of all our NBA Power Rankings this season, please visit this page.
NBA Power Rankings
| | |
| --- | --- |
| 1 | |

Golden State Warriors

Warriors = Untouchable.

Last Week (1)

| | |
| --- | --- |
| 2 | |

Atlanta Hawks

So, yeah…The Hawks are a lock to make the Eastern Conference Finals.

Last Week (2)

| | |
| --- | --- |
| 3 | |

Memphis Grizzlies

Someone get the Grizzlies some biscuits to go with their mammoth helping of grit.

Last Week (3)

| | |
| --- | --- |
| 4 | |

Cleveland Cavaliers

Kyrie Irving is having one of those stretches where he plays better than LeBron James, who is still balling himself. (For the clue-challenged: This means the Cavaliers are good.)

Last Week (4)

| | |
| --- | --- |
| 5 | |

Houston Rockets

James Harden is a sorcerer.

Last Week (5)

| | |
| --- | --- |
| 6 | |

Oklahoma City Thunder

Oh, hey, Thunder. Keep on riding Russell Westbrook, resident mutant ninja turtle, to the playoffs.

Last Week (11)

| | |
| --- | --- |
| 7 | |

Chicago Bulls

Tony Snell will make Jimmy Butler dispensable in free agency. MY COLUMN—

Last Week (10)

| | |
| --- | --- |
| 8 | |

Dallas Mavericks

Dallas' seesaw of a season continues. This team will either be swept in the first round or win the West. That's how Jekyll and Hyde it's been.

Last Week (9)

| | |
| --- | --- |
| 9 | |

Los Angeles Clippers

Playing sans Blake Griffin has looked mighty good on the Clippers—except, you know, for that loss to the Grizzlies.

Last Week (12)

| | |
| --- | --- |
| 10 | |

Portland Trail Blazers

All too familiar downturn for the Blazers. If it sticks, like it did last year, they're in t-r-o-u-b-l-e.

Last Week (7)

| | |
| --- | --- |
| 11 | |

San Antonio Spurs

See here, this is no time for panicking over the Spurs' recent misgivings. It's a time to subtly wonder whether or not Gregg Popovich should use atomic wedgies as negative reinforcement for mistakes made during games.

Last Week (6)

| | |
| --- | --- |
| 12 | |

Toronto Raptors

My word, the Raptors, it seems, are super-duper title pretenders.

Last Week (8)

| | |
| --- | --- |
| 13 | |

Milwaukee Bucks

Nabbing Michael Carter-Williams makes the Bucks unimaginably long, but it further handicaps an offense that was already on life support. Let's see how this dice roll plays out.

Last Week (13)

| | |
| --- | --- |
| 14 | |

Washington Wizards

The Wizards are doing the lateral shuffle, which, in turn, means they'll be sent home super early during the playoffs.

Last Week (14)

| | |
| --- | --- |
| 15 | |

Miami Heat

Condolences and prayers to Chris Bosh.

On a basketball-related note, you should fully expect Goran Dragic to save the day.

Last Week (18)

| | |
| --- | --- |
| 16 | |

New Orleans Pelicans

No Anthony Davis and no Jrue Holiday. The going is about to get real rough for the Pellies.

Last Week (15)

| | |
| --- | --- |
| 17 | |

Detroit Pistons

Shawne Williams was made for Stan Van Gundy's offensive system. All the Pistons need to do now is bring Mike D'Antoni on as an assistant for next season.

Last Week (17)

| | |
| --- | --- |
| 18 | |

Brooklyn Nets

Signs of life have been spotted in Brooklyn. No word yet if these are harbingers of simplistic, short-lived microorganisms, or if they're indicative of fully functioning beings.

Last Week (23)

| | |
| --- | --- |
| 19 | |

Indiana Pacers

If there was a "Does the Most with the Least" award for NBA teams, the Pacers wouldn't just win it. They would have it renamed after them.

Last Week (21)

| | |
| --- | --- |
| 20 | |

Boston Celtics

Dear basketball gods,

Please, please, please let us see playoff Isaiah Thomas.

Signed,

Everyone

Last Week (20)

| | |
| --- | --- |
| 21 | |

Utah Jazz

Trey Burke is playing the role of one Jamal Crawford—provided Jamal Crawford was slightly shorter and had just guzzled down 17 cases of Surge.

Last Week (22)

| | |
| --- | --- |
| 22 | |

Charlotte Hornets

Kemba Walker needs to come back, like, two weeks ago.

Last Week (19)

| | |
| --- | --- |
| 23 | |

Phoenix Suns

Yeah, this is what happens when you have a fringe playoff contender and take a roster-razing too gotdamn far.

Last Week (16)

| | |
| --- | --- |
| 24 | |

Sacramento Kings

George Karl and Andre Miller are together again. It's time to Boogie! (DeMarcus Cousins pun intended.)

Last Week (25)

| | |
| --- | --- |
| 25 | |

Orlando Magic

(Not-so-)secretly hoping the Magic abandon patience and hire a new head coach now. Their pace of play and offensive system are uninventive disasters.

Last Week (24)

| | |
| --- | --- |
| 26 | |

Denver Nuggets

Storyline to watch heading into last 25 percent of the season: Can the Nuggets make a play for the Lakers' or Timberwolves' tanking positions?

Last Week (26)

| | |
| --- | --- |
| 27 | |

Minnesota Timberwolves

Kevin Garnett is back, Ricky Rubio is healthy, Zach LaVine is telling jokes and the kids are having fun. In the name of unbridled nostalgia, fuck it, let's coin Andrew Wiggins a superstar right now.

Last Week (28)

| | |
| --- | --- |
| 28 | |

Los Angeles Lakers

This is the quintessential "moved up by default" situation. So, no, the Lakers are not THIS good. The Knicks and Sixers are just THAT bad.

Last Week (29)

| | |
| --- | --- |
| 29 | |

Philadelphia 76ers

Sam Hinkie's right to trade players for draft picks should be revoked.

Last Week (27)

| | |
| --- | --- |
| 30 | |

New York Knicks

Philly has upped the tanking ante. The Knicks have countered by playing Andrea Bargnani and allowing Phil Jackson to use Twitter.

Last Week (30)