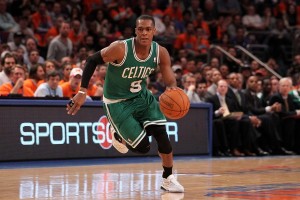 Rajon Rondo apparently isn't considered untouchable within the Boston Celtics organization.
But you already knew that, of course. He's been linked to trade rumors for years—since before Anthony Davis had his driver's permit. Hell, it isn't a season until Rondo has reportedly been made available.
To wit: It's officially a season.
According to ESPN.com's Marc Stein, the Dallas Mavericks and Celtics are discussing a deal that would land the All-Star point guard in Dallas. And while other teams have entered the mix, the Mavericks appear to be frontrunners:
The Boston Celtics, after years of flirting with potential Rajon Rondo deals, are in substantive discussions on a trade that would send Rondo to the Dallas Mavericks, according to league sources.

Sources told ESPN.com that the Celtics and Mavericks have been discussing a swap that would furnish Boston with multiple draft picks — including at least one future first-rounder — as well as blossoming Mavericks center Brandan Wright and other players needed to make the salary-cap math work.

Sources say the Celtics also have been talking to teams such as the Sacramento Kings, New York Knicks, Los Angeles Lakers and Houston Rockets about potential Rondo deals, but that the most advanced discussions have been with Dallas.

Because Rondo is in the final year of his current contract, sources say any team that can come to terms on a trade with Boston likely will request permission to confer with Rondo and his representatives to get Rondo's input on the destination, giving them a level of influence into where he might be dealt. …

Although the Celtics have been insisting since the season began that they aren't actively looking to move Rondo, Dallas and Houston are among the teams that have been chasing him for some time. It's believed that the Mavericks are pressing the issue earlier than expected in the season to give Rondo more time to settle in.
Alrighty then.
There's little use denying the interest Rondo's move to Dallas would incite. The Mavericks' starting lineup would include him, Monta Ellis, Chandler Parsons, Dirk Nowitzki and Tyson Chandler, a high-octane, point-piling paper attack if there ever was one.
I this really the best Boston can do, though? Rondo is on an expiring contract and remains a free-agent flight risk, but completing this deal confirms that the Celtics are only draft-pick hunting. The Mavericks' package certainly isn't about tangible talent, after all. Though Brandan Wright is having a terrific season, he's point guard-reliant on the offensive end and isn't someone who can transform a team's defensive culture.
That other suitors are teams like the New York Knicks, Los Angeles Lakers, Sacramento Kings and Houston Rockets doesn't bode well for the Celtics' potential return either. The Knicks and Lakers have basically the nothing, the Rockets only have New Orleans' first-round pick and the Kings boast a number of uneven assets.
If the Celtics were going to move Rondo, his value may, in fact, have been higher last season or over the summer. The latest seemingly has them unloading a player they don't want to pay for a low-level return. And if that's the reality of all this, well, consider it an unflattering end to a years-long rumor-mill saga.
Dan Favale is a firm believer in the three-pointer as well as the notion that defense doesn't always win championships. His musings can be found at Bleacherreport.com in addition to TheHoopDoctors.com.