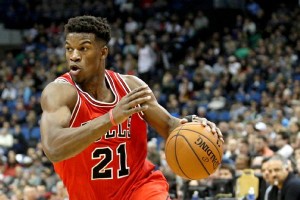 Not signing Jimmy Butler to a contract extension before the Halloween deadline is going to wind up costing the Bulls.
A lot.
Millions of dollars.
Tens of millions of dollars, actually.
Rather than sign the extension Chicago was slinging, the 25-year-old, who is averaging career highs in points (21.6), rebounds (5.6), assists (3.5) and field-goal percentage (49), elected to bet on himself, according to the Sporting News' Sean Deveney:
Back in late October, after he turned down the Bulls' final offer for a contract extension, swingman Jimmy Butler told reporters he was, "betting on myself."

The bet, obviously, has paid off. …

… That's where Butler's bet on himself came in. There have been some reports on the negotiations between Butler and the Bulls, but according to Sporting News sources, the Bulls' offer went as high as $11 million per year for four years. Butler was asking for $14 million per year, but would have been willing to negotiate downward to the $12.5-$13 million range.

Chicago, then, could have gotten Butler for a total payout of $56 million at most — or even something in the range of $50 million.

Now it appears it was the Bulls who were taking the gamble by not locking up Butler in October.

If Butler continues on this current track, several league executives agree he will warrant a max-contract offer next summer. That's based not only on Butler's numbers, but his top-tier defensive ability, his age (25) and the fact that nearly half the league will have significant cap space available.
Translation: The Bulls shouldn't have been fishing for a hometown discount in October. It's going to cost them serious cash this summer—unless, of course, they allow Butler to walk in restricted free agency, which would be an equally, if not more, absurd course of action than fishing for said hometown discount in the first place.
While the Bulls admittedly may not have seen Butler's breakout campaign coming—contract years are unstable beasts—Butler's initial asking price should have been right up their alley. Twelve-plus million dollars a year seems like a lot for someone who only averaged in double figures once in three years, but it's a new NBA. An expected salary-cap boon in 2016 has morphed player markets.
Klay Thompson snagged $70(ish) million from the Warriors, Alec Burks negotiated a $40-plus million contract with the Jazz, as did Kemba Walker with the Hornets. Paying Butler something like $56 million over four years would have been right in line with that market. And he would have been worth it for his defensive consistency alone. Anything he added on the offensive end would have been gravy.
Instead, the Bulls put themselves in this situation—one in which they're unlikely to let Butler go, but are now (probably) obligated to hand out a $70-plus million payday they could have ironed out for $14 or more million less.
Oops.
Dan Favale is a firm believer in the three-pointer as well as the notion that defense doesn't always win championships. His musings can be found at Bleacherreport.com in addition to TheHoopDoctors.com.