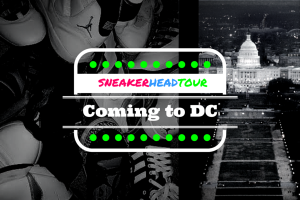 Attention sneakerheads!
The Hoop Doctors have teamed up with Sneakerhead Tour, a traveling sneaker show, for their upcoming event.
On April 11, 2015 Sneakerhead Tour will be making a stop in the Washington, DC-area. Sneakerhead Tour is a traveling buy/sell/trade sneaker show where sneakerheads are sure to get their hands on that pair they've been looking for, or sell the ones they've been dying to get rid of. It's an oasis for true sneakerheads.
In the spirit of the holiday season, Sneakerhead Tour has a special giveaway just for The Hoop Doctors readers.
Beginning this Friday, "Black Friday," tickets to this event officially become available. There are free tickets for those that act quickly. And as a perk just for The Hoop Doctors readers, for a limited time, if you enter promo code THD9, you will receive a special offer for both general admission and vendors.
Head over to sneakerheadtour.com and claim your spot beginning this Black Friday, November 28 to learn more about the actual event.