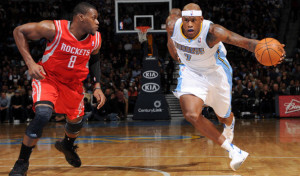 The Houston Rockets are considering signing sixteen-year veteran forward Al Harrington, according to Yannis Koutroupis of Basketball Insiders.
Harrington started the season in China, but then decided to opt out of his contract in order to make a possible NBA return, and one of the teams interested are said to be the Rockets. However, a lot of paperwork is still being processed with the Chinese club before being cleared to sign with an NBA team. So Harrington isn't there just yet.
Harrington, 34, played for the Washington Wizards last season and averaged 6.6 points and 2.4 rebounds under 15 minutes of play.
Hearing the Houston Rockets are one of the teams considering signing veteran forward Al Harrington: http://t.co/tdMFhkpYOR

— Yannis Koutroupis (@YannisNBA) November 25, 2014
Needless to say, his addition to the Rockets is quite needed with Dwight Howard and Terrence Jones still nursing their respective injuries. His ability to score at will in the paint combined with his long-range shooting will spread the floor for the Rockets and give opposing big men a tough time on defense.
If the Rockets are able to make this acquisition happen—then they've certainly gotten themselves a reliable player.
We'll be hearing more about this in the next few days, for sure.
Benjamin Felix Santos is currently a senior college student from Manila, PH. An aspiring NBA writer, who bleeds the purple and gold. His love and passion for the game will never die.
Follow @biefsantos