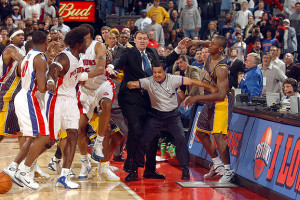 Gray slacks. White, gray and black button-up shirt. Black leather jacket.
It's the type of event that unconsciously forces you to remember what you were wearing when it transpired. Ten years ago today, not only am I able to recall what I had on, the company around me, and where I was, but I can equally as vividly remember the single worst day in NBA history. Bad enough to even make Kermit Washington blush, perhaps.
In the closing minute of ESPN's Friday night game on November 19, 2004, in a game that was all but over, Ben Wallace took exception to a hard foul by Ron Artest and that was the beginning of the end. While laying on the scorer's table awaiting word from the referee, a fan threw a cup filled with a beverage at Artest and all hell broke loose. This was pre-Twitter, of course, so if you weren't watching the game live as I was, it was probably a while before you found out. About an hour later, while my body was still shaking, mouth still agape and hands still on my head, my phone began blowing up with friends who had finally caught wind of the malice. I remember being too numb to field the calls or texts.
What happened as a result of this incident would define the NBA for the foreseeable future. The timing of Artest's trip into the stands couldn't have been worse because prior to that night, the NBA had already been facing recent popularity and image problems and this did not help.
The early 2000s was a time where the League was still very much influenced by Allen Iverson in the post-Michael Jordan era. Searching for a guy to serve as the de facto face-of-the-League, Stern so happened to find it in the way of A.I. (the biggest trendsetter in NBA history) whether he liked it or not.
Cornrows, tattoos in abundance, headbands and shooting sleeves were on the rise League-wide, and all were equally as distasteful to consumers who did not and could not relate to a number of NBA players. To that end, it was commonplace to encounter a sports fan who would practically brag about not following the NBA. They would stick out their chest with that boastful proclamation. As a result, I constantly found myself unintentionally defending the League to naysayers as if David Stern was paying me to do so.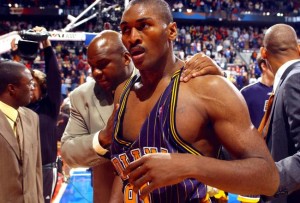 Naturally, the highly-debated (and now barely-enforced) Dress Code ensued the following off-season and would serve as David Stern's direct response to cleaning up the League's image, although he would never openly link it to Artest. His League was headed in a direction that Stern was not pleased with and he needed to enforce something publicly to let mainstream media, fans, and sponsors know he had it under control. Had it not been for Artest, you could argue there never would've been a Dress Code.
It felt as if "NBA" was a bad word for several years after mid-November, 2004. The League felt stale. Dormant even, and it was a direct result of Artest. Frankly, the success of the San Antonio Spurs didn't help in this regard either, as the team was not widely-regarded as fun to watch. Then 2010 rolled around and the sun began to peak through the clouds.
First, the Lakers and Celtics, two blueblood franchises, met in the Finals that year and took the best-of-seven series to its limit. A few weeks later, LeBron James peaked everyone's interest –sports fan or otherwise— when he took his talents to South Beach. As result of those two 2010 incidences, the NBA was finally officially back and Ron Artest was off the hook, six years later.
It's hard to believe it's been ten years. It's also hard to believe that Ron blossomed into this fun, lovable, caricature despite his 2004 transgressions. That's probably the most amazing part of the entire story.
Time heals all and this is proof positive. Today, the NBA is as popular as it has been since Jordan was shoving Bryon Russell and that's a good thing, because 2004 was cold, dark, lonely place for the League. A place it cannot afford to retreat to.
Kevin Burke brings provocative, thought-provoking content about basketball as only he can. Kevin also hosts The Hoop Doctors weekly podcast show. Follow Kevin on Twitter and Facebook.