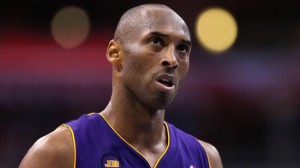 In their 114-109 victory against the Atlanta Hawks Tuesday night, Los Angeles Lakers star Kobe Bryant just broke another milestone once again as he officially became the fourth player in league history to reach 32,000 career points, joining Kareem Abdul-Jabbar, Moses Malone, and Michael Jordan.
With exactly 1:10 remaining in the game, Bryant scored his 32,000th point on a turnaround and-one jumper that eventually resulted to a win over the Hawks at their very home floor. Immediately, the Lakers gave recognition to this accomplishment via Twitter.
Point #32,000 for @kobebryant and he's fouled!! Lakers up 107-102 with a FT coming.

— Los Angeles Lakers (@Lakers) November 19, 2014
Wow. What a way to score your 32,000th point.
In just a few more games, Bryant will likely surpass Michael Jordan on the all-time scoring list as he only needs 292 more points. Although it took him a lot more games/seasons played, and a hell of a lot more shots taken than it did Jordan, it will likely still spark the never-ending debate on who the better player was (Jordan or Kobe). Although most fans fall on the obvious side of Jordan being a much better defender making him the better all around player, Lakers fans will certainly do their best to make it a conversation. Not to take anything away from Bryant though. It takes a hell of a player to reach 32,000 points in an NBA career.
Benjamin Felix Santos is currently a senior college student from Manila, PH. An aspiring NBA writer, who bleeds the purple and gold. His love and passion for the game will never die.
Follow @biefsantos