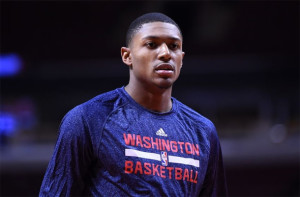 It's been more than a month since Washington Wizard guard Bradley Beal broke his left wrist (Oct. 10), but after a relatively quick recovery, he's expected to return to practice this week. In fact he has hopes to make a season debut this Friday night against the Cavaliers, according to Jorge Castillo of the Washington Post.
Washington Wizards shooting guard Bradley Beal, out since Oct. 10 with a fractured left wrist, is expected to return to practice this week and is "hoping" to make his season debut Friday night against the Cleveland Cavaliers, according to a person with knowledge of the situation. …

A day after doctors evaluated his fractured left wrist and concluded he has avoided any setbacks, Beal exhibited no limitations during a dribbling and shooting drill with assistant coach David Adkins following the Wizards' shootaround Saturday morning. The Wizards likely won't practice Sunday so Beal would have to wait until Monday to practice for the first time.
So far, the Wizards have been impressive even without Beal's services, as they've only lost two games this season, and currently stand second (7-2) in the eastern conference, behind the top-seeded Raptors.
Garrett Temple has been stepping up in Beal's place by averaging 10.1 points per game while shooting 40.3% from the three-point line, which is one of the reasons for the team's strong start.
Once he returns, Beal will bring more offensive firepower for the Wizards. He averaged 17.1 points in 34.7 minutes per game last season, and is still just 21 years-old, which leaves a lot of room to further grow and develop his game.
Benjamin Felix Santos is currently a senior college student from Manila, PH. An aspiring NBA writer, who bleeds the purple and gold. His love and passion for the game will never die.
Follow @biefsantos