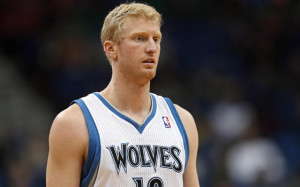 Trade partners and NBA championship-seekers everywhere, line up now!
The Minnesota Timberwolves have reportedly made Chase Budinger available.
From Yahoo Sports' Adrian Wojnarowski:
The Minnesota Timberwolves are shopping forward Chase Budinger in trade talks, league sources told Yahoo Sports.
Among talks with several teams, the Detroit Pistons and Houston Rockets have shown an interest, league sources said.

Houston is reluctant to take on the $5 million player option Budinger's deal has in 2015-16, as are the Pistons, sources said. Nevertheless, the Pistons are taking a long look at Budinger and considering the possibility of making a deal. No trade is considered imminent for Budinger.

Detroit lost shooting guard Jodie Meeks for two months because of a fractured back.

The Wolves have a glut of forwards, and Budinger could struggle to find minutes this season. Budinger also is guaranteed $5 million for the 2014-15 season.
To the trade machine! You obviously don't want to miss this once-in-a-franchise's-lifespan opportunity. Yeah, I'm talking to you Daryl Morey. And you Stan Van Gundy. Fork over those assets. Pay Budinger his money. This is your chance to add the missing link.
Okay, I'm done.
That Budinger is available shouldn't come as earth-shattering, nor should the tepid market for his services come as a surprise. He's appeared in just 64 games over the last two seasons and has never cracked 10 points per contest. When the Timberwolves signed him in 2013, it was an overpay. Now they're paying for that overpay, since it will be difficult for interested teams like the Rockets and Pistons to stomach the $5 million player option Budinger will almost assuredly exercise next summer.
Are the Rockets so desperate for shooting they'll cut into their financial plasticity for summer 2015? Are the Pistons so desperate for shooting—or so petrified of Josh Smith continuing to shoot threes—in the wake of Jodie Meeks' injury that they're willing to pay Budinger $10 million over the next two seasons?
The intrigue is understandable. Budinger was something of a per-36 minute stud for the first three years of his career. But he's shooting just 33.8 percent from deep over the last two seasons, and he's also had problems staying healthy. If he made substantially less, or if his contract came off the books next summer, he's a gamble that makes some sense. Right now, for both the Pistons and Rockets, he's an unnecessary investment, especially if expiring pacts or picks must be sent Minnesota's way as compensation.
Any deal made for him—whether it's brokered with the Pistons, Rockets or another team—is banking on an individual leap that's yet to come. Budinger has never logged more than 22.4 minutes per game, so there's still an air of mystery to him and how he would fit and fair on a team that uses him more.
Gun to the head, sledgehammer to the nuts, if I had to pick which team is better off with him, I'd roll with the Pistons. They were a floor-spacing shit show last year, and if they want to steal an Eastern Conference playoff spot, they'll need additional firepower, even after Meeks returns. But I'm not in the business of endorsing an aggressive chase for Chase.
Buyers should beware.
That means you Detroit.
Dan Favale is a firm believer in the three-pointer as well as the notion that defense doesn't always win championships. His musings can be found at Bleacherreport.com in addition to TheHoopDoctors.com.