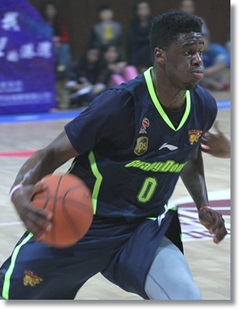 NBA fans should soon be used to hearing the name Emmanuel Mudiay, as the one time elite level high school point guard, has begun his professional career in China, and is now a viable candidate for the top overall selection in next year's 2015 NBA Draft.
Mudiay shined as a high school senior last season and surprised everyone by spurning numerous top tier NCAA programs to commit for Hall of Fame coach Larry Brown at SMU.
But over the Summer and amid controversy over whether or not the speedy floor general would become eligible to play at all during his freshman season, Mudiay made a surprise decision to sign with the Guangdong Southern Tigers in the Chinese Basketball Association for a reported $1.2 million, rather than try to make it through the NCAA Clearinghouse in time to play for SMU.
With the NCAA season to begin in a few short weeks, many have forgotten about the once highly touted PG, who chose to take the guaranteed money overseas to help his family, but that would be a mistake.
Many NBA Draft experts are now clearly focused on University of Duke freshman big man Jahlil Okafor as the likely top pick in the upcoming Draft, but following Mudiay's stellar debut in the CBL over the weekend, it's clear that the 6'6 athletic guard should clearly be in the mix as a legit Top 5 pick.
Mudiay, whom many have compared to All Star PG John Wall of the Wizards, scored 21 points, on 8-14 shooting, dished out 5 assists, with only 3 turnovers in his Chinese debut.
Keeping in perspective that he still is only 18 years old and playing against grown men, it was quite the stellar debut for the promising floor general that surely will be on the radar of disappointing teams like Philly, Milwaukee, and Boston.
In case you missed it, check out Emmanuel Mudiay's amazing HS mixtape……….
Allen Moll has been a lifelong NBA and NCAA College Basketball fan who watches and studies games religiously, and coaches youth basketball in his native Lehigh Valley region of Pennsylvania. Allen has also provided content to Bleacherreport.com, Upperdeckblog.com, Cleveland.com, CSN Philly.com, Buckets Magazine, in addition to being a tenured NBA and NCAA columnist for TheHoopDoctors.com.