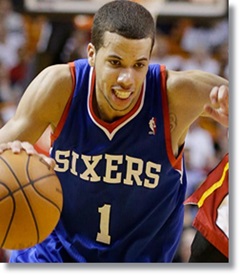 Not too many people around the Association have been happy with the way that the Philadelphia 76ers have been using the so called "tanking" method in order to do an entire rebuild of the roster.
But a knowledgeable hoops fan has to give GM Sam Hinkie credit for turning over a once mediocre team devoid of any star talent into stockpiling tons of potential superstars like reigning NBA Rookie of the Year Michael Carter-Williams, 7 foot shot blocker Nerlens Noel, future MVP candidate Joel Embiid, and International star Dario Saric.
Adding in to the fact that Philly will once again be really bad this season and Saric won't come over to the States until at least 2017, the 76ers should be able to add another elite, young stud to their suddenly growing stable of young horses that may be in line to make a long run at multiple NBA crowns by the latter half of the decade.
Character obviously comes into play as well in building a contender and it appears as if Philly's young studs all currently get along as Noel and MCW were once high school AAU teammates in the Boston area and Embiid is as personal as can be as evidence of his humorous give-and-take with celebrities and other elite ballers on Twitter and Facebook.
Lost during Team USA's domination of the competition in Spain at the FIBA World Championships has been the presence of MCW, Noel, Embiid, Hinkie, and head coach Brett Brown at every one of Croatia's games to support future teammate Dario Saric, who has garnered rave reviews, despite his squad getting eliminated over the weekend.
As a best situation possible and tongue-in-cheek moment, seeing all these potential future NBA stars in the following pic made me think two things.   Wow, Embiid looks really big and there may one day be hope for the Philadelphia 76ers……..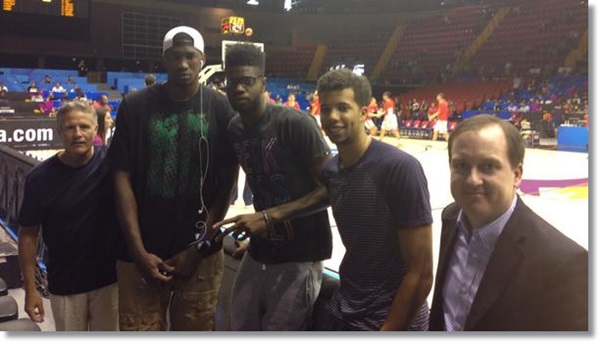 Allen Moll has been a lifelong NBA and NCAA College Basketball fan who watches and studies games religiously, and coaches youth basketball in his native Lehigh Valley region of Pennsylvania. Allen has also provided content to Bleacherreport.com, Upperdeckblog.com, Cleveland.com, CSN Philly.com, Buckets Magazine, in addition to being a tenured NBA and NCAA columnist for TheHoopDoctors.com.